'Thanks for all your support' -- Van Persie sends signed photo of himself to Piers Morgan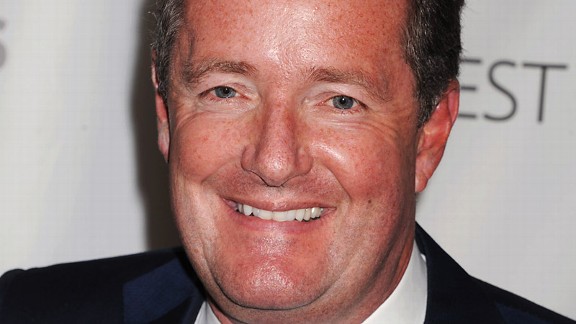 Jeffrey Mayer/Getty ImagesPiers Morgan received a special gift with personalized message from former Gunner Robin van Persie.
Not that many Gooners would thank us for reminding them, but jowly, gloating, grease-swathed newspaper editor-turned-tediously smug chat show prat Piers Morgan is one of their number, not that this fact is recognised by anyone else affiliated with the club.

A cursory glance at his Twitter timeline shows a never-ending cavalcade of boisterous, boring, faux-inflammatory opinions about his beloved club, which are largely of no interest to anybody but himself.

You may not be surprised that dear old Piers has spent the majority of this season heckling Robin van Persie -- or "Van Pursestrings" as Morgan has wittily redubbed him -- on Twitter after the Dutch striker upped sticks at The Emirates and left for Manchester United in pursuit of silverware last summer.

Van Persie, as it happens, spent 2012-13 knocking in a shed-load of goals as United stormed their way to a twentieth English league title.

Thankfully, after remaining silent and refusing to bite all year, league-winner Van Persie organised a little gift to be sent to Morgan via the United press office to thank him for all his "support" over the course of the season -- a gift which turned up on the whinnying git's doorstep yesterday.

In the package was a signed photo of Van Persie with his lips pressed up against the Premier League trophy, along with a note that read: "Robin wanted you to have to this."

Morgan live-tweeted the moment he unwrapped the parcel:

"So. I just received a package from Manchester United press office. 'Robin wanted you to have to this.'"

"The package contained a double sided framed photograph. Of Van Pursestrings kissing the Premier League trophy."

"[Van Persie's message reads] 'Piersy my man, thanks for all the support! You made this day even more special! All the best, Van Pursestrings.'"

"I will of course afford Van Pursestrings' gift the respect it deserves. And use it as my loo doorstop in Beverly Hills..."

"After all the grief I've given Van Pursestrings, he's allowed a whack back.
I'll just have to take it on the chins."

Here's the photo in question. It's rather excellent.

Revenge is indeed a dish best served framed.