Queretaro relegated from Liga MX, owner buys another team, plans move to Queretaro
The upper echelons of the Mexican football pyramid can be a hectic place at the best of times but recent developments at Queretaro FC -- or "Gallos Blancos de Queretaro" (The White Roosters of Queretaro) if you prefer -- are nothing short of maddening.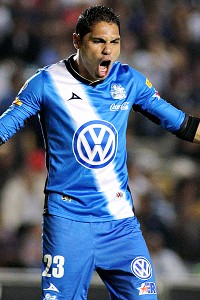 Adid Jimenez/AFP/Getty ImagesOne can only imagine the thought bubble of Queretaro keeper Victor Hernandez trying to keep up with his owner's moves: "Who do I play for? What year is this? Who's the president?"
Following a pretty drab old season, Queretaro FC were relegated from Liga MX (the Mexican first division) back May 4. Upset at not having any top-flight football to look forward to next season, club owner Amado Omar Yanez duly set about taking drastic measures to ensure the city of Queretaro would be represented by a first division side in 2013-14.

Following Queretaro's relegation, Yanez -- who made his money in the seafood and marine engineering industries - used his company, Grupo Delfines, to purchase a controlling stake in Liga MX side Jaguares de Chiapas, a club struggling to balance the books amid dwindling attendances and insubstantial sponsorship deals.

A mere 16 days after the Gallos Blancos went down, Yanez filed an application with the Mexican Football Federation (FEMEXFUT) to move the entire Jaguares franchise, based some 1,045 kilometers away in Tuxtla Gutierrez, halfway across the country, to relocate them in Queretaro.

The Associated Press reported Monday the deal has not been officially approved. But if Yanez's plan passes successfully, at the start of the 2013-14 Mexican football season, both teams will play in the same city: Jaguares in Liga MX and Queretaro FC in the Ascenso MX (second division).

Apparently this kind of thing is fairly commonplace in Mexican football, with newly promoted and relegated teams being traded willy-nilly at the whims of their owners.

Who knows, maybe one day we'll see an English club franchised off to, say, the barren industrial carparks of Milton Keynes in a cynical ploy to appease the money men with a corporate cash dash to an unrelated prefab city 60 miles away?

Stranger things have happened.