Single fan spends 2,800 pounds on match programmes for Fergie's farewell game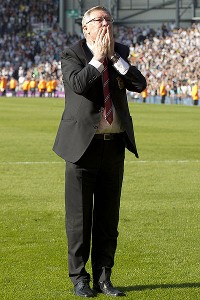 Adrian Dennis/AFP/Getty Images"You paid how much?" - Fergie shirks at the gobsmacking price of a programme for his finale at West Brom
It would appear the money being shelled out on matchday programmes was equal to, if not entirely more batchy than the scoreline at The Hawthorns on Sunday afternoon, where West Brom and Manchester United played out a bizarre 5-5 draw in Sir Alex Ferguson's 1,500th and final game in charge.

To mark the occasion, West Brom produced a special 144-page programme featuring a 40-page tribute to Sir Alex, which supporters -- in fact, just one in particular -- went completely goo-goo for.

According to the papers, one fan purchased 700 programmes from a vendor outside the ground at a cost of four pounds each, meaning he (or she - but let's face it, it's probably a "he") shoveled about 2,800 pounds (that's approximately 4,254 US dollars) into the programme seller's cash tin in one fell swoop!

It is also being reported that earlier in the day another solitary fan bought 300 of the special edition programmes at once (1,200 pounds/1,823 dollars), meaning that one-twentieth of the total print run of 20,000 copies was purchased by just two fans.

You can probably guess where those 1,000 programmes began surfacing after the game, can't you? Yep. That's right. Ebay; with prices generally starting around the 25-pound mark.

So, any football fans out there who are desperate to get their grubby paws on a souvenir from Fergie's last game with United can either start combing Ebay and preparing to hand over a sizeable chunk of cash to Touty McScalperson for one -- or, alternatively, wait for one of the many more £4 copies that West Brom have promised to print later this week and make available from their club shop as a swift "up yours" to the conniving buggers who tried to monopolise the first run.

The choice, as they say, is yours.