Werder Bremen ban Eintracht Frankfurt fans from bringing concert xylophone into stadium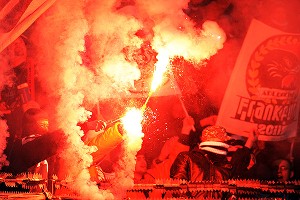 Lars Baron/Getty ImagesEintracht supporters' expertise with flares, shown in Jaunary at Leverkusen, was not enough to convince Werder Bremen they could be trusted with a xylophone.
Pounding drums, massive flags and ear drum-rupturing air horns are all fine, but Werder Bremen drew the line at Eintracht Frankfurt fans' request to bring a full-sized concert xylophone to the Weserstadion for Saturday's meeting.

Yep, you read that correctly.

Before every game in Germany, the away side's fan liaison officer collects requests and sends them to the host club, who decide which items are going to be allowed in the away section.

A group of musically-inclined Frankfurt fans asked if they could bring their xylophone to inspire their side with some truly hardcore tinkling. Sadly, Bremen put the kibosh on the instrument on "safety" grounds.

On Wednesday, the Frankfurt fan officer released a statement to explain just why there won't be any xylophones allowed at Bremen:

"Given that the anger as well as the media interest in the ban on xylophones has now reached unprecedented levels, we sadly must inform you about the background.

"Several Eintracht fans had asked whether they were allowed to bring a full-fledged concert xylophone.

"We took the request to the Bremen officials and -- understandably enough -- were denied permission since the xylophone really is not that small and could block emergency routes."

When the news broke, Frankfurt fans took to the official club board to register their disbelief, with one supporter writing: "Xylophones are a thing of the past. Real away thugs bring their fipple flutes."