Olympique Lyon's new kit glows in the dark
Olympique Lyon definitely have a history when it comes to breaking new ground with their kit designs, seeing as the Ligue 1 side were responsible for laying the world's first "3D" football strip on us last season - that's right, they utilised all three dimensions: up, across and back!

They were also the first club to use your Nan's old curtains to make a kit, but the less said about that particular foray the better.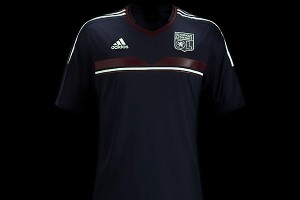 footballshirtculture.comEnterprising TP readers surely own the technology to confirm this new Lyon jersey glows in the dark.
Anyway, in keeping with their niche, Lyon have once again pushed the envelope in their pursuit to buckle the realms of possibility. In fact, they've screwed up the metaphorical envelope and thrown into a metaphorical waste paper basket marked "ancient history" by creating and launching a new jersey for 2013-14 that glows in the dark.

Yep. The Lyon's new third kit features a luminescent crest and other assorted detailing which "glows" when submerged in inky darkness -- perfect for those nights when the floodlights fail at the Stade de Gerland.

According to Adidas, the design is an homage to the city of Lyon, which goes by the nickname "The Capital of Lights" thanks to its famous annual "Festival of Lights", or "La Fête des Lumières" if you'd prefer the local parlance.

What next? Well, an inside source has told TP that Lyon are currently cooperating with NASA on a top-secret prototype that will see them hopefully produce the world's first kit made entirely of 100 percent recycled chicken's teeth.

We'll keep you posted.