Di Stefano, 86, marrying woman half-a-century his junior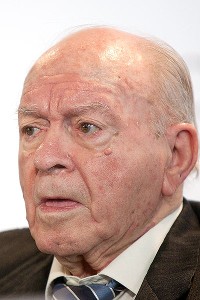 Pablo Blazquez Dominguez/Getty ImagesAt 86, Alfredo Di Stefano is making his second trip down the wedding aisle.
Real Madrid legend (and honorary president) Alfredo Di Stefano, 86, has proven that he's still adept at scoring when it counts. Despite being older than most glaciers, he announced Saturday that he's engaged to be married to woman a full half-a-century his junior!

The man they call "The Blond Arrow", who turns 87 in July, said he is due to marry Gina Gonzalez, 36 (whom Di Stefano first met while she was transcribing interviews for his biography), within the next few weeks "because I want to and I have been a widower for eight years".

"Each madman to their own," he told the Saturday edition of El Mundo.

"I am in love and I am marrying Gina," he added. "I am 86 but I have a young heart."

Di Stefano lost his first wife, with whom he had six children, in 2005. Asked what his sprogs make of their 86-year-old father's marriage plans, he added: "What do you think they would say? They might be against it. But that is not important to me.

"I am interested in my life and nothing else. And not making a lot of trouble.

"They are going to have a go at me but I will take it with sincerity. If any wants to ask me then let them do it and I will explain it to them."

We imagine you know have some slightly disgusting mental images you'd like to get rid of. To that end, you'll find a complimentary bottle of "Mind Bleach" in the cupboard under the sink.