Van Persie declines offer to take United No. 9 to save fans money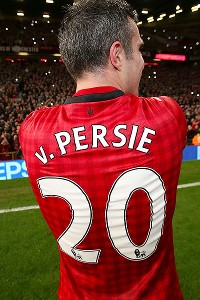 John Peters/Man Utd/Getty ImagesRobin van Persie's decision to keep No. 20 is a cost-saving gesture for the style-conscious among Manchester United's legion of fans.
That Robin van Persie is a good sort. Having already bagged a shed-full of goals on his way to procuring the Premier League title in his maiden year at Old Trafford, the Dutch striker has done United fans another solid by reneging on the option of swapping his shirt number for next season.

Van Persie has passed on Sir Alex Ferguson's offer of taking over the No. 9 at United, which has lay vacant since Dimitar Berbatov departed for Fulham last August, in order to save fans from paying through the nose all over again to keep their replica jerseys up to date.

"I think I'll keep (No.20)," Van Persie told United Review. "I have the option to take No. 9 but I don't think I will do that. I'll stick with what is right and what feels good.

"Also, I don't want to be harsh on the fans who have got number 20 on their kit. I don't want them to have to buy a new shirt.

"It's been a good number for me and now I can at least celebrate the 20th trophy for another year. I'll stick with it."

It's all a little moot as United's bloody awful "table cloth" kit is going to be replaced (please, please, please let it be replaced!) by a new, hopefully less Gingham-y model next season, but it's still a nice gesture nonetheless.