Bishop places 'cut-out-and-keep' prayer in local paper to steer Wolves from relegation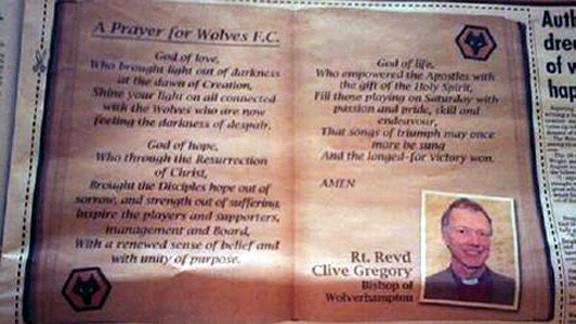 Twitter @James_Fielden Wolves need divine intervention this weekend in order to avoid relegation to League One.
For those unaware, Wolverhampton Wanderers have been -- by and large -- bilge in the Championship this season after dropping out of the top flight the season previous. Indeed, they've pretty much been flirting with a second successive relegation from the outset.

As things stand coming into the final game of the campaign, Wolves are second bottom of the league and three points adrift of both Barnsley and Peterborough directly above them. Basically, they need to beat fourth-place Brighton away on Saturday afternoon and then hope results elsewhere and/or goal difference go their way.

It ain't looking good, and it looks like Wolves may have to place their fate in the hands of a higher power if they want to retain their Championship status next season.

With the fans praying for a miracle, Bishop of Wolverhampton and Wolves fan Reverend Clive Gregory has placed a "cut-out-and-keep prayer" in the local Express and Star newspapers for supporters to recite during the Brighton game.

The prayer reads:

"God of Life,
Who empowered the Apostles with the gift of the Holy Spirit,
Fill those playing on Saturday with passion and pride, skill and endeavour,
That songs of triumph may once again be sung,
And the longed-for victory won.

AMEN."

Perhaps should've thought about trying this back around Christmas time, eh Bish?