Thousands of fans turn out as 8yr old cancer patient scores four against Portland Timbers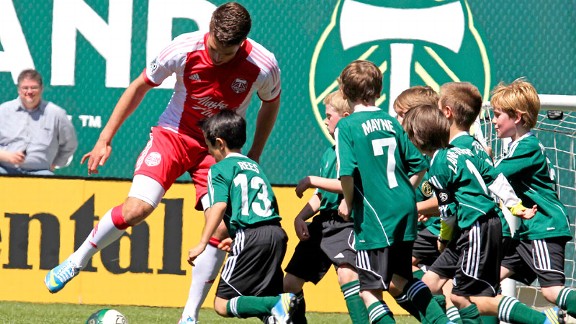 AP Photo/Don RyanRyan Kawulok and the Portland Timbers played a very special friendly on Wednesday.
There were brilliant, cockle-warming scenes at the Jeld-Wen Field stadium on Wednesday afternoon when thousands of supporters, armed with the requisite flares, smoke grenades and banners, turned out en masse as Portland Timbers took on some formidable opponents.

Strangely, however, it was the visiting team who found themselves being roared on from the terraces by the Timbers Army.

For you see, the MLS side weren't up against any old opponents, oh no. The Timbers were up against an Under 9s side led by eight-year-old Atticus Lane-Dupre: a young cancer patient who, after missing his beloved side's final game of last season due to his chemotherapy, was invited to come along and take on his heroes in a very special exhibition game...



He could've chosen something boring like Disneyland but, wanting to share his dream day-out with his buddies, Atticus -- along with the rest of his "Green Machine" teammates -- took on the Timbers in front of just over 3,000 fans at the Jeld-Wen in a special game set up in conjuction with Oregon Make-A-Wish and the club themselves.

With Timbers coach Caleb Porter switching sides and taking charge of Green Machine for the day, Atticus' side ran out 10-9 winners, with Atticus himself clocking up an impressive four-goal haul, including the winner in the final minute.

"Just how we drew it up," laughed Porter after the game.

Along with the Timbers Army supporters group doing their bit, the club produced commemorative scarves for their young opponents and hanging in each locker before the game was a brand new "Green Machine" shirt with each boys' name printed on the back.

Make-A-Wish spokeswoman Tracey Lam was astonished with just how supportive the entire Timbers community had been in the staging of the game, telling ESPN:

"Atticus wanted to involve his entire team because they have been so supportive of him throughout his treatment.

"That touched our hearts, and the Timbers really stepped up and made it magical for him."

Now, if you'll excuse us, we've got to go and get this dust out of our eye.