Dortmund's GM was so jittery during Bernabeu finale he locked himself in the toilet for last ten minutes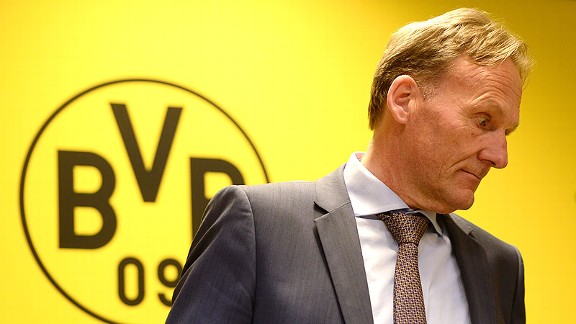 PATRIK STOLLARZ/AFP/Getty ImagesHans-Joachim Watzke couldn't handle the final minutes at the Bernabeu on Tuesday night.
"Sorry fellas, I gotta get outta here pronto!"

Quite why he felt the need to divulge the information is another matter, but Dortmund general manager Hans-Joachim Watzke has admitted that he couldn't face sitting through the nervy finale to BVB's Champions League semifinal second leg against Real Madrid on Tuesday night and instead locked himself in a toilet cubicle for the last ten minutes of the game.

Dortmund ran out winners in the end, but a couple of late Madrid goals made things a little bit tense for the Germans -- with Watzke barricading himself in the Bernabeu bogs for fear of having a heart attack.

The man himself told Bild: "It seems like we only can do it with drama. For the first time in my life I had to give up due to heart problems.

"I went to the toilet for the last minutes, locked myself in, covered my ears and looked at my watch. I had all kinds of thoughts going through my head."

If poor old Hans-Joachim worked himself up into that state just watching a semifinal, then imagine how neurotic he's going to be at Wembley in 23 days' time.

Somebody better get him an oxygen canister and a brown paper bag. Stat!