Cash-strapped Brazil side raffles sheep at half-time to boost crowds
With dwindling attendances and spiraling overheads, it's no mean feat trying to balance the books at an amateur football club at the moment.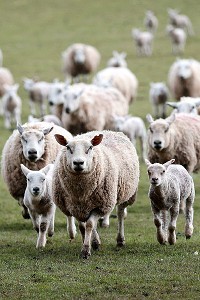 Chris Jackson/Getty ImagesSanto Angelo are hoping their "ewe-nique" gimmick will "ram-p" up attendances.
Brazilian regional league side Santo Angelo are no different, with the club close to skint as they struggle with keeping fans' buttocks on the seats at their Estadio da Zona Sul.

The severe lack of funds was beginning to bite at the Series A-2 Campeonato Gaucho club -- until one of the club's directors conjured up an ingenious scheme to reel their wayward fans back in: by putting on a half-time livestock raffle, with every ticket-buying fan being entered into the draw!

Despite Santo Angelo going down 2-0 to Rio Pardense at the weekend, attendances were up for the first time in months after word was put out around the area the club would be giving away a live sheep at half-time, with the club's president taking to the field at the break and pulling the lucky winning seat number out of a hat.

As well as the sheep, caps, t-shirts and beer glasses were also given away to a gaggle of runners-up.

Santo Angelo also announced that more prizes are to be raffled off over the course of their next two home games, with a 30-litre keg of beer, a bicycle and a signed replica shirt scheduled to be given away over the coming weeks as the club bid to bolster their crowds for the culmination of their season.

Here's a local news report, with footage of the mutton raffle...