Revealed: Walcott, Bale 'underwear bandits' at Southampton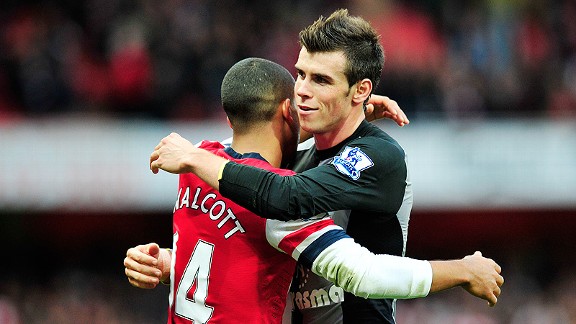 Glyn Kirk/AFP/Getty ImagesThe shared secret between former Southampton teammates Theo Walcott and Gareth Bale? "Once an underwear bandit, always an underwear bandit."
Cruel fate has since pitted brother against brother on either side of the North London divide, but there was a time when Arsenal's Theo Walcott and Tottenham's Gareth Bale were inseparable.

Merrily they played each summer's day, frolicking with naive abandon as they ploughed their furrows together at Southampton's academy.

Indeed, as the young pair matured and the natural urge to pummel people while wearing underpants on your head started to manifest in their loins, Theo and Gareth became known as "The Underwear Bandits" in certain circles at The Saints.

Oo-er.

Walcott told Sport magazine:

"We'd call ourselves the underwear bandits. I have no idea where it came from, but if you were in your room watching a film and someone burst in with their boxers on their head, you knew you were in trouble.

"Sometimes it wasn't even pillows – it was shoes and stuff like that. Luckily I was always quite quick, so I tended to get away with it."

We're sure Gareth will be absolutely thrilled you told the world that one, Theo. Nice one.