Mistaken Twitter identity sees Indian IT consultant bombarded with messages for Robin van Persie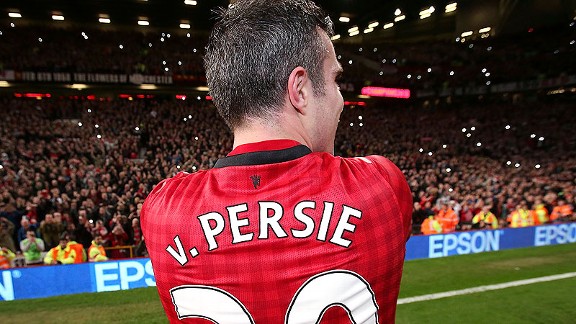 John Peters/Man Utd via Getty ImagesTwitter handle @rvp does not belong to Manchester United star Robin van Persie.
"I'm RVP, the real RVP. All you other RVPs are just imitating"

Thanks to possessing a rather unfortunate set of initials, a 52-year-old IT consultant from India has spent the past few days being slowly buried under an avalanche of tweets and emails intended for Manchester United's title-deciding striker Robin van Persie.

Delhi-based software consultant Ravi Visvesvaraya Prasad -- you see the problem here -- signed up for Twitter some while ago, cleverly using his initials as his handle and creating the account "@rvp", though it later dawned on him that he may not be the only "RVP" on the scene.

Moments after Van Persie's hat trick saw United land their 20th league title at Old Trafford on Monday night, Prasad's timeline became inundated with messages from jubilant United fans congratulating him on his success and thanking him for his contribution this season:

"@rvp You really made the difference for us this season, well done"

"Great scenes as @RVP celebrates winning his first title at United… Well done mate" and "@rvp hey Robin, that was a fantastic hat trick... can you send me a shirt please?"

"Congratulations Man United!!! Well done @rvp!!!"

"Cant wait to see u lifting the PL title at Old Trafford on 12th May @rvp"

Prasad then changed his profile to alert fans that he wasn't the RVP in question and even Tweeted a couple of pleas for supporters to use Van Persie's verified account, @Persie_Official, in the future.

These warnings, as they say in the industry, backfired horribly as banteriffic United fans then swamped Prasad's timeline with spoof messages like this...

"Congratulations to @RVP you fully deserved it. Incredible since you are a part time footballer and info tech consultant. #CHAMPIONS2013."

"He consults when he wants, He consults when he wants, Ravi Visvesvara Prasad, he consults when he wants!!!"

A decidedly miserable Prasad has since told the BBC that he spent over 10 hours on Tuesday morning (the morning after the Villa game) blocking and deleting messages from the 5,000 or so new followers he had gained overnight.

"I'm a fan of Robin van Persie, so I understand people wanting to congratulate him, and most of the messages or mentions are nice," the poor guy said.

"But it's a real nuisance for me. I keep having to tell everyone I'm not Robin van Persie and blocking unwanted followers.

"I sent lots of people messages explaining who I was. My email account is clogged too -- I think people have been trying to hack into my Twitter account as I keep getting messages referring to a forgotten password."

Still, it's nice to be popular.