Sepp Blatter 'resigns' as FIFA's Twitter accounts hacked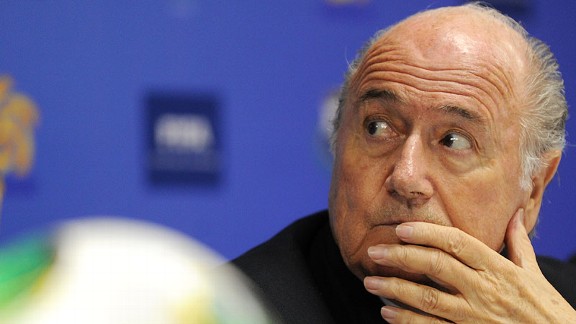 Rodrigo Arangua/AFP/GettyImages"Oh crap, did I leave my Facebook open too?"
It has been confirmed that FIFA grand fromage Sepp Blatter had his official Twitter account hacked yesterday after a series of hoax messages were posted over the course of the evening.

The co-ordinated hack attack saw both the @SeppBlatter and the @FifaWorldCup accounts hit, with Tweets being posted that suggested the decision to award the 2022 World Cup to Qatar may have seen -- shock horror -- large sums of money changing hands.

The following Tweets, among others, appeared on Blatter's feed:

"So what if I took money from Qatari prince? I am the family's bread earner"

"His excellency the Emir of Qatar has been the most generous figure I have ever met"

"I do not apologize for my decision. I have done the best for FIFA"

"For almost 15 years I have toiled for this organization"

"The royal family has done much for #FIFA I am sure Jordan will make an excellent host for 2030"

"I have recommended his excellency prince Ali Bin Al Hussein of Jordan as my successor"

Which all seems perfectly plausible to us, but hey ho. In fact, we saw the Tweets at the time and still had no idea Blatter's account had been hacked until we were told.

Indeed, the news that most football fans around the globe have been wanting for years was then "announced" via the @FifaWorldCup account, raising collective hopes for a split second before the sober realisation dawned:

"It was decided that the president Sepp Blatter is to step down due to corruption charges"

Sadly, FIFA have since confirmed via a statement on their website that Blatter's accounts had been hacked and that the little Swiss dumpling will not be standing down any time soon.

Shame.

The hacking has been claimed by a group known as the "Syrian Electronic Army" (SEA) who appeared to sign off on both of the hacked FIFA accounts using their Twitter handle, @Official_SEA6.

The group have also hacked accounts belonging to US television network CBS and several BBC journalists over the past few months.