Arsenal fan receives insurance payout after dislocating shoulder cursing at Tottenham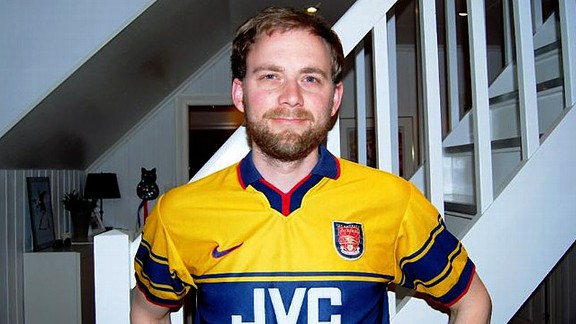 Courtesy of twitter account @sverriss Sverre Litleskare dislocated his shoulder after an Aaron Lennon goal.
Despite the fact that it's usually like siphoning blood from the proverbial stone, an Arsenal fan from Norway has somehow managed to secure a wodge of compensation after injuring himself in the aftermath of Tottenham's second goal in the North London derby back in early March.

When Aaron Lennon prodded in to send Tottenham 2-0 up over his beloved Gunners, Sverre Litleskare, 30, threw a tantrum while watching the game at home with his Spurs-supporting neighbour and popped a shoulder out of joint in the process.

Litleskare, who is a doctor by day, said he only noticed the dislocated shoulder once he got down on his haunches and began punching the floor in pure rage.

He told Norwegian media: "I was screaming on the floor, I shouted that I was nauseous, had to vomit and that my shoulder was dislocated. While [my friend] got a bucket, I pulled the shoulder in place."

Sensing an opportunity to make a bit of easy money from his misfortune, Litelskare then filed an insurance claim under the pretense that he'd sustained a "football-related injury."

His insurance company unsurprisingly rejected the initial claim, but Litelskare then wrote to them again and protested that his injuries were not his fault -- postulating that, as his dislocated shoulder was a result of "emotions", it was to be deemed "out of his control".

"I know it was a silly complaint but I emphasized the free will aspect," he told Norwegian media. "I had just read a book that argues against free will, so I decided that I would do it for fun."

And, Hey Presto! The insurance company paid out.

Wonders will never cease.

UPDATE: After a brief pow-wow with the man himself this afternoon, TP can confirm that the insurance company in question didn't actually pay Sverre any "compensation" as such, but actually awarded him with a "writer's fee" as they were so impressed by the philosophical protest letter he sent to them.