Croatian coach sacked for stealing player's credit card & buying 36 litres of Jager
A Croatian coach has been sacked after stealing a player's credit card and using it to buy himself 36, count 'em, thirty-six, litres of Jagermeister.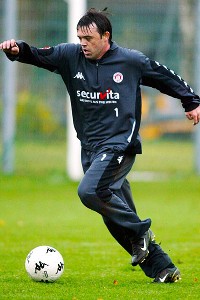 Friedemann Vogel/Bongarts/Getty ImagesJozo Gaspar, shown in 2002 as he was wrapping up his playing days, may have seen his career as a football manager come to an end.
A star player for Dinamo Zagreb during the late 1980s and 1990s, Josip "Jozo" Gaspar was relieved of his managerial duties at NK Precko Zagreb over the Easter period but the reason for his sacking was kept very hush-hush.

Now, according to local news reports, it has emerged that Gaspar is alleged to have admitted to sneaking into the dressing room of FC Sparta Elektra (a team in Zagreb who share training facilities with NK Precko) and stealing a wallet belonging to one of their players.

Gaspar then drove into town and used a credit card from the wallet to purchase 450 pounds worth of Jagermeister, or 36 one-litre bottles if you'd prefer.

Unfortunately for Jozo, he was captured on security cameras as he paid for his bulk purchase and was then easily recognised as he attempted to buy more alcohol at a second store later in the day.

He was then arrested and fired from his post at Precko.

Well played, Sir. Well played.