Nacional fans break record for biggest flag, unfurl 600m monster at Copa Libertadores match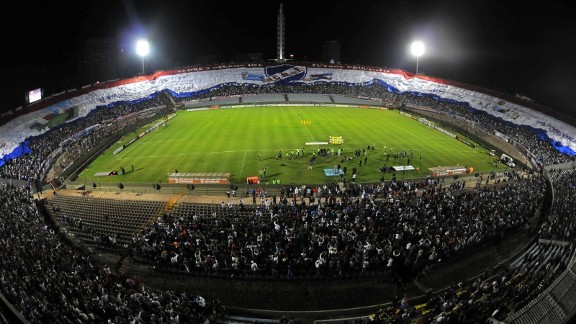 GettyImagesNacional's flag was a colossal 600 metres by 50 metres
Congratulations are definitely due to the supporters of Uruguayan side Nacional who are now officially the proud owners of the "biggest flag ever at a sporting event" world record (which was previously held by rivals Penarol) after swamping their terraces with an absolute behemoth of a banner before their Copa Libertadores tie against Mexican club Toluca on Thursday evening.

Seven years in the making, Nacional's flag was a colossal 600 metres (656 yards) in length and 50 metres (54 yards) high, covering half of the seats inside the club's 25,000-capacity Parque Central stadium in the club's colours and slogans after being fully unfurled.



Apparently the flag was originally devised by a supporters group back in 2006 but due to it's sheer size the project failed to get off the ground several times. Thankfully, in early 2012, a concerted effort by over 5,000 fans was made to make the banner a reality and, almost a year and a half later, here we are.

For the record, Nacional went on to beat Toluca 4-0 so a grand old night was had by all!