Portuguese designer makes Balotelli custom camouflage boots to match his car
A graffiti artist-cum-designer has produced a brand spanking new pair of custom made camouflage football boots with Mario Balotelli in mind to go with the Milan striker's expensively pimped camo Bentley.

The one-off boots have been cobbled together by Portuguese designer Mr Dheo (who, like Banksy before him, never shows his face or uses his real name and has previously sprayed up a pair of "DENCH" boots for Emmanuel Frimpong) and come painted in woodland camo colours with various Balotelli-related stencils daubed all over them and come all wrapped up in a special graffiti-covered box.

Anyway, these be them...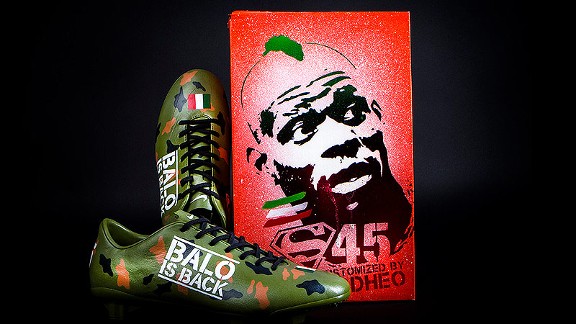 Courtesy of mrdheo.com


Yeesh.

If we could sum them up in a hyphenated word, it'd probably be "eye-catching" which, you've got to say, is kind of missing the point of camouflage.