Football Manager's 1888 'launch' April Fool's Day winner
It was a fairly quiet day on April Fool's Day as far as football was concerned, with a handful of clubs making a cursory effort -- and Nani doing his best to liven up Monday's FA Cup quarterfinal replay with a truly laughable performance -- but the chaps over at Football Manager still managed to steal the Portuguese wimp's thunder.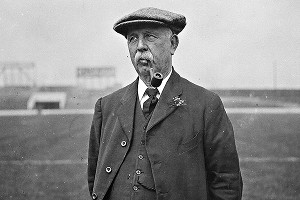 Getty ImagesAlas, Football Manager's offer to manage like it's 1888 was just an April Fool's ruse. Milwall's George Saunders probably wouldn't have been amused.
Over on their official Facebook page, Football Manager announced that, to mark the FA's 125th anniversary, they were releasing a special 1888 mini version of the football manager sim, complete with historically accurate details.

Along with a mocked-up, sepia-toned 'front cover', Football Manager claimed the new game would include only the 12 inaugural football league clubs to chose from, no substitutes or offside rule and a danger of losing players to the army should King and country come a calling.

They managed to hoodwink a few gullible souls on Twitter before the Facebook page was later updated to inform all and sundry that 'Football Manager 1888' was nothing more than an April Fool's ruse.

Shame really, as we reckon we'd have rather enjoyed playing it!

(Image: Football Manager on Facebook)