Depardieu to play Rimet in film about history of FIFA
In what may potentially turn out to be the worst piece of miscasting since Colin Farrell got the "Alexander The Great" gig, it seems French thespian Gerard Depardieu is to play Jules Rimet, FIFA's third president and driving force behind the creation of the World Cup, in an upcoming film about the history of football's governing organisation.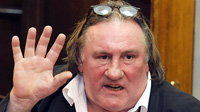 Savo Prelevic/AFP/Getty Images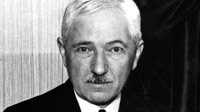 Getty ImagesDo you see a resemblance between Gerard Depardieu, top, and Jules Rimet? Some casting director somewhere does, apparently.
Looking at the two men, Depardieu was just born to play the part if only by virtue of the two men looking nigh-on identical...

Uncanny! It's like they were separated at the zygote.

According to Editions du Passage, the film is tentatively titled "F2014″, due to start shooting in July this year and is currently in the process of being written by novelist Jean Paul Delfino and director Frederic Auburtin, who aim to "uncover the human story of the creation of the largest sports federation in the world."

Rumours that Denzel Washington has been cast as Sepp Blatter are yet to be unconfirmed, but deemed to be perfectly plausible.