Bolivian president presents little Messi with extra large poncho
Ahead of Argentina's World Cup qualifier in La Paz, Bolivian president Evo Morales invited Lionel Messi around for a chinwag before the game and bestowed him with a welcoming gift which just smacked of "petrol station panic buy" -- a traditional poncho that was at least three sizes too big for the little man...



To be honest, we think Morales suddenly realised he'd forgotten to get Leo anything and, in a blind panic, told his staff to quickly cut a hole in the middle of his floor rug.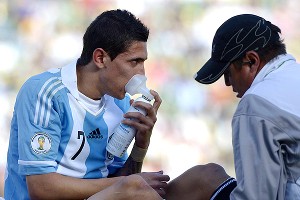 Juan Mabromata/AFP/Getty ImagesAngel di Maria accepts the gift of oxygen during Argentina's match in Bolivia.
Argentina went on to draw 1-1 with Bolivia, with the high altitude (we're talking 3,600 metres above sea level) of the Estadio Hernando Siles once again wreaking havoc as several Argentina players were forced to huff on bottles of oxygen throughout the match.

Indeed, there are reports circling today that Messi was sick at half-time due to the lack of juicy air in La Paz. Hopefully, he didn't get any on his nice new floor rug poncho.