Southend United sack manager Paul Sturrock, invite him back to take charge for Johnstone's Paint Trophy Final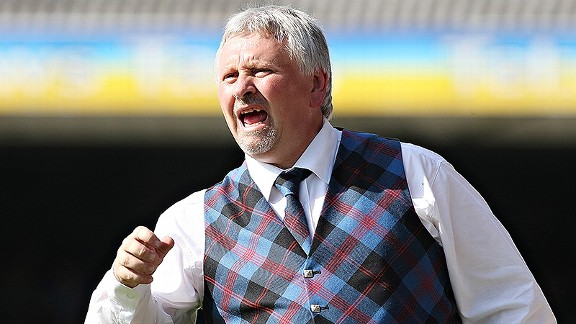 Pete Norton/Getty ImagesAlthough fired by the club, Paul Sturrock will get to manage Southend in the Johnstone's Paint Trophy final.
Here I am Sturrock in the middle with you

On Sunday afternoon Paul Sturrock was sacked as manager of Southend United with the club a mere six points outside the League Two playoff spots though, with The Shrimpers having won just one of their last six games, chairman Ron Martin's itchy trigger finger got the better of him and the ever-affable Sturrock was out on his ear.

Martin then issued a flimsy club statement to announce Sturrock's departure, listing in great detail the many, many ways in which the club were failing, also including the bizarre claim that Southend "are not a League Two club" when, in actuality, they so very clearly are.

The very next day, Southend appointed Phil "orange as an RNLI lifeboat" Brown as Sturrock's successor, announcing that the former Hull City manager would officially taking charge of The Shrimpers for their league fixture against Bradford City this coming Friday night.

However, in the interest of being "fair and just", chairman Martin then offered Sturrock a one-time-only "privilege" (his words, not ours) to come back and take charge of Southend one last time for the Johnstone's Paint Trophy final against Crewe the week after the Bradford game, seeing as though it was the Scot who put in all the hard yards guiding The Shrimpers to Wembley in the first place.

What a lovely gesture. You've got to give it Martin, he must have a significant set of nerves on him to pull a move like that.

Here's hoping Sturrock and Southend win the JPT and writes his name into the record books as the only ever unemployed manager to lift a trophy at Wembley.