Sandaza's lack of Rangers loyalty exposed by Celtic fan posing as agent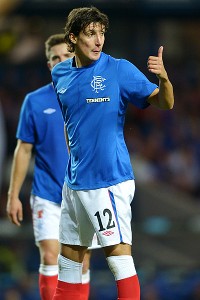 Mark Runnacles/Getty ImagesFrancisco Sandaza, right, is likely not to be in a cheery mood the next time he takes the Ibrox pitch -- and the same goes for the Rangers' support.
We're not -- nor have ever claimed to be -- clairvoyant, but we just have a hunch that Francisco Sandaza will be booed to Kingdom Come the next time he takes to the field for Rangers, after the Spanish striker was caught out admitting that he joined the Glasgow club solely for the money and that he'd be willing to leave tomorrow if the opportunity arose.

Sandaza was contacted by an LA-based MLS agent by the name of "Jack McGonigle" and tapped up about a move to play stateside, with the 28-year-old forward subsequently pouring his heart out down the phone to a man he'd never met.

Unfortunately, rather than "McGonigle: MLS Super Agent" being on the other end of the line, Sandaza had actually just carried out a 20-minute conversation with a Glaswegian taxi driver named Tommy who just so happened to be a die-hard Celtic fan with a recorder in hand.

Sandaza told "McGonigle": "I didn't sign [for Rangers] for the level (of football), I signed for the money," adding he could always "get another contract after Rangers."

When "McGonigle" then asked whether the former St. Johnstone striker would be interested in moving to play in the MLS, Sandaza made it painfully obvious that he's willing to leave Ibrox immediately and that he'd also prefer if all negotiations were done behind Rangers' back:

"Do not do it officially through the club. Send me the contract first. I don't want trouble if Rangers find out about this."

Now, to be fair to Sandaza, given Rangers are currently in the fourth tier of Scottish football, it's fair to assume that most of their players aren't there for "the level", and we can't kid ourselves that this kind of mercenary, money-centric behavioral is rife at all levels throughout the professional game.

Why else would Samuel Eto'o join Anzhi, etc? It's a short career, yada, yada, yada...

What we are amazed at is just how readily Sandaza was willing to share this kind of thing with a complete and utter stranger on the other end of the phone. We can only assume that he's a few mini Scotch eggs short of a picnic.

Here's the conversation in full . . . .