Tasty Addition To Munich's Homages To Pep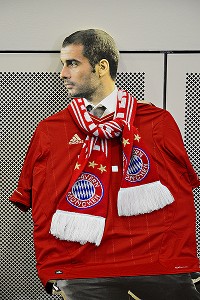 AP Photo/Sebastian WidmannMcDonald's restaurants in the Munich area are doing their part in the coronation of incoming Bayern coach Pep Guardiola.
He's not even moved in properly yet, but Pep Guardiola has already been bestowed with his own signature sandwich in Munich ahead of his imminent arrival at FC Bayern.

The result of a Facebook contest to suss the perfect bread-based tribute to Guardiola, McDonald's have launched "The Hot Pep Guardinator" sandwich in and around Munich, captured in a photo in the twitter feed of ESPN Deportes commentator Jorge Ramos. The ingredients include burger staples such as Jalapenos, salsa, cheddar and hot fresh hahnchenfleisch among its various ingredients.

We're not exactly sure what the link between Pep and spicy chicken is, but, as we're sure you'll agree, it's a lovely gesture nonetheless.