How to stop Ronaldo? As always, Sir Alex on cutting edge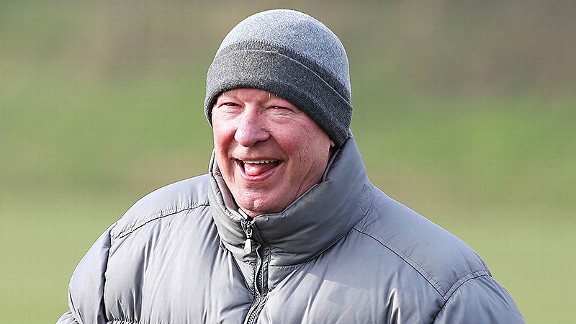 Matthew Peters/Getty ImagesWhy are we getting the feeling this man might not be joking?
What with the news Monday that Phil Jones' ankle injury is going to keep him out of the Champions League last-16 second leg tie against Real Madrid at Old Trafford Tuesday, Sir Alex Ferguson conceded that he's going to have to scrap his plan to suffocate Cristiano Ronaldo by asking Jones to hang off his shoulder all night as he did at the Bernabeu a fortnight ago.

You'd think that redrafting the kind of clever, complex strategy that's going to nix one of the best players in the world would take several days of intense thought, but no -- it would appear Sir Alex has an altogether more immediate way of chopping down Ronaldo and prevent the Portuguese titan from returning to haunt his former employers.

Said Sir Alex:

"He is a better player now than he was when he was with us because he has matured. He is 28 and at the peak of his career. From 28 to 32, with the fitness Ronaldo has got - he never misses a game and is never injured - he will be at his absolute best.

"I've got a plan to stop him: it's called a machete. Plan B is a machine gun!"

Yeesh.

Either Fergie's started referring to Rafael da Silva as "The Machete" or things could get very interesting (and messy) on the touchlines Tuesday night.

We reckon the ground staff might want to put a tarpaulin down or something.