Brazilian World Cup stadiums to include 'double size' reinforced seats for 40-stone fans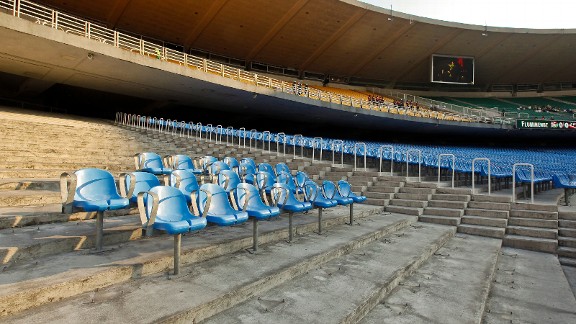 GettyImagesRenovation work at the Maracana Stadium in Brazil
The construction firms in charge of renovation the stadiums for the 2014 World Cup in Brazil have found themselves duty bound to include "plus size" seats for supporters weighing up to 40 stones (254kg/560lbs) so that some of football's biggest fans can watch the games in comfort.

The XXL seats are double the width of normal stadium seats, specially reinforced to support the extra load and a different colour from regular seats so they can be easily identified.

Brazilian disability regulations actually require at least 1% of a stadium's total seating to be geared toward the more portly fan. Fortaleza's 64,000-capacity Castelao stadium, one of only two stadiums to have actually reopened since redevelopment began for the World Cup, has 120 of the double chairs.

But wait! There's more! Seeing as though any fan who needs a 40-stone seat is going to be taking up the same space as two non-overweight fans, they are to be charged double the entry price for the privilege.

Whereas a ticket for a standard seat will cost approximately £19, the super-sized seats will set you back around £38.

No wonder Ronaldo has been slimming down of late!