Mario Balotelli has commissioned a bronze statue of himself in 'Power Flex' mode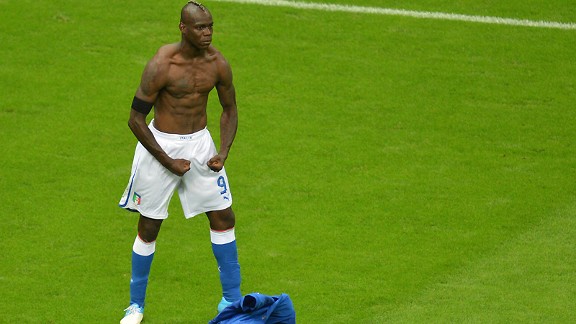 GettyImagesWhat you gonna do when Sulkamania runs wild?
There is absolutely nothing surprising about the news that Mario Balotelli has commissioned a bronze sculpture to be made of himself in the 'power flex' mode he went into after scoring against Germany at Euro 2012, in fact the only surprising aspect is that it took this long.

According to Football Italia, artist Livio Scarpella, who is based in Balotelli's hometown of Brescia, has been approached by the Milan forward to immortalise his famous pose in platinum and bronze, with the sculptor telling regional newspaper Il Giornale di Brescia:

"I received the commission, but have never actually met Balotelli, so I am working from photographs.

"I presented various sketches, but Mario wanted to be immortalised in the pose after the goal: muscles in evidence and an expression to challenge the opponents.

"I imagined him as an athlete from ancient times. The statue will be between the classic and pop style, in platinum and coloured bronze with the eyes made of precious stones."

Very nice. Tasteful, even. Here's hoping that, for the sake of realism, Scarpella opts to cast Balotelli's body in bronze with a solid gold mohawk perched on top of his head.

There is yet to be word on just what Balotelli is planning on doing with the sculpture, but we're guessing he fully intends on planting it in the exact spot on the pitch at the National Stadium in Warsaw where the original flex took place, forcing all subsequent teams to play around it for the rest of time.