Palermo sack manager Alberto Malesani after just three games, immediately re-hire the man he replaced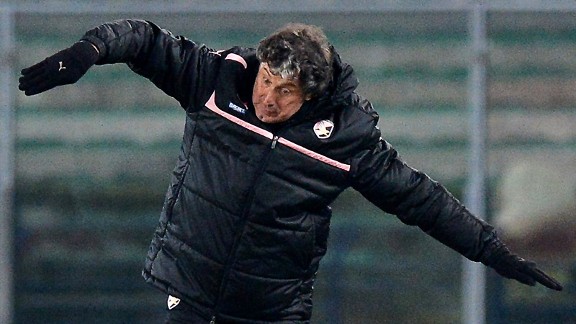 Tullio M. Puglia/Getty ImagesAlberto Malesani's tenure as Palermo boss has ended after just three matches.
Alberto Malesani: Apparently quite literally stood on shifting sands

Palermo owner Maurizio Zamperini isn't exactly known for his, with his current record standing at 50 managerial sackings in his 25-and-a-bit years in the game, 27 of those coming in his 10 years at the Rosanero.

The latest casualty of Zamparini's itchy trigger finger is Alberto Malesani, who lasted all over three whole matches at Palermo before being fired. Malesani was canned immediately following Palermo's 0-0 draw against Genoa on Sunday, having unforgivably drawn his two previous games (against Pescara and Chievo) as well.

Considering this is Zamparini we're talking about here, it should also comes as no surprise that the man he is turning to in a desperate attempt to haul Palermo off the foot of the Serie A table is Gian Piero Gasperini -- the very coach Zamparini sacked to make room for Malesani in the first place, way back on on 4th February, 2013.

Zamparini told Gazzetta dello Sport:

"I've had a lot of phone calls from people in the game telling me Palermo played better under [Gasperini].

"I re-watched three matches with Gasperini in charge followed by the three matches under Malesani, then I made the decision to remove him."

That takes Palermo's running tally up to four managerial changes in the last six months, with the club rock bottom of the table and six points adrift of safety.