Maradona plans for newborn son to play alongside Thiago Messi and Benjamin Aguero for Argentina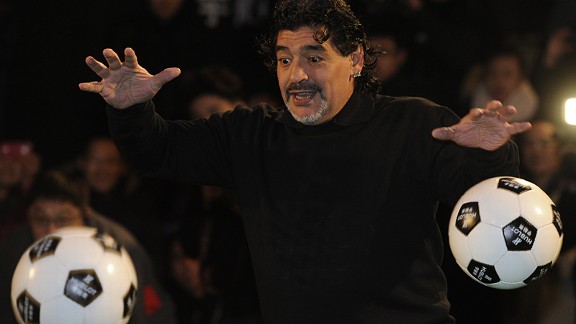 GettyImagesDiego's still got it
Nothing like putting a bit of pressure on your sprogs early is there?

With his newborn son just over a week old, Diego Maradona has already begun mapping out his career in international football - declaring that wee Diego Fernando will anchor the Argentina midfield of the future alongside Lionel Messi's l'il lad, Thiago, with Benjamin Aguero (Kun's kid and Maradona's grandson - here he is having a kick-about with his old man) playing in front of them.

Maradona told a Dubai radio station:

"One of them will have to play as a midfielder. I think Thiago will command the others. Benjamin will play as a forward and Thiago will play alongside Dieguito Fernando."

Who knows, maybe he'll be back in charge of the Albiceleste by then?

For the record, Thiago is three months old and Benjamin is the experienced veteran and elder statesman of the trio, having just clocked up four whole years on this planet (his fourth birthday was on Tuesday).

Maradona, 52, is yet to meet his newborn son (which he sired with ex-girlfriend Victoria Ojeda) though, ever the model of responsible fatherhood, he is planning to mosey back to Argentina at some point in the near future when his commercial commitments will allow it:

"I'm under contract in Dubai until June, and then I'll go to Argentina but I won't stay long. I'll see him (Diego Fernando) all the time possible. He will have everything he needs."

Fingers crossed El Diego doesn't get the heart-breaking "dad, I want to be a chartered surveyor" talk from "Dieguito" in 15 years time.