Bayern keeper Neuer to pilot 'four-fingered' glove vs. Arsenal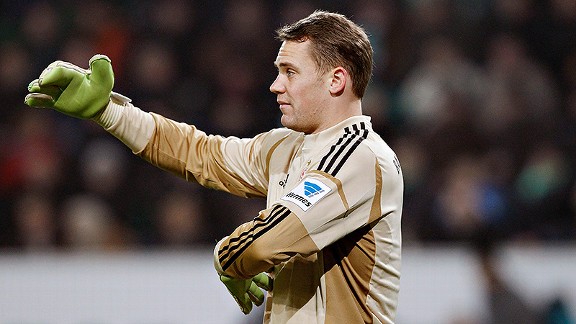 Boris Streubel/Getty ImagesBayern's Manuel Neuer is already 1-0 with the four-fingered goalie glove on his right hand.
With his club 15 points clear at the top of the Bundesliga and having only conceded seven goals all season, Bayern Munich goalie Manuel Neuer has a lot of spare time on his hands these days. To keep boredom at bay, he spends the majority of it conjuring up new ways to push the footballing envelope.

Having already trail-blazed the "sweeper keeper" role during his downtime, Neuer has now turned his hand - quite literally - to pioneering a new type of goalkeeper glove with only four fingers.

Neuer wore the gloves for the first time against Wolfsburg on Friday night and, once again, kept a clean sheet as Bayern ran out 2-0 winners. Now the German No.1 is preparing his innovative gloves for their Champions League debut against Arsenal on Tuesday.

Apparently the four-fingered glove (which Neuer wears on his right hand) is to allow him to strap his middle and index finger together, one of which he recently broke.

It also increases the surface area of his palm by several percent - whether or not that's an unfair advantage, we're not really sure.

Either way, given that Neuer has only conceded seven in total and one - one! - away goal all season, we suspect Bayern would let him wear a pair of frozen chickens on his hands if he damn well wanted to!