Edin Dzeko auctions off 'goal celebration' t-shirts to raise money for Sarajevo orphanage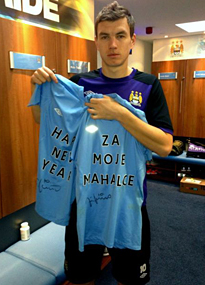 Other / Edin DzekoWe sincerely hope those things have been washed!
Good guy Edin Dzeko is auctioning off the personalised t-shirts that he revealed after scoring against Stoke City and Arsenal not so very long ago on Ebay to help raise a wodge of cash for an orphanage in his hometown of Sarajevo.

Rather than going through a representative or a PR firm, Dzeko has listed the two shirts on the auction site using a personal account, along with the following message to potential buyers:

"Dear fans and everybody,

"In order to help those in need, I decided to start selling sports memorabilia that has a special meaning for me, and all the money I raise from this and future auctions will go to charity.

"This time my family, friends and I decided to donate proceeds to Home for children without parental care Bjelave in my hometown Sarajevo.

"Items I'm selling are two signed Manchester City Sky Blue Umbro T-shirts (size L) with custom messages: "Happy New Year" - worn on 1 January 2013 against Stoke City, and the other, in my native, Bosnian language - "Za moje mahalce" (For my mates) - worn on 13 January 2013 against Arsenal.

"Both T-shirts were part of my goal celebration, so good luck bidding and don't forget it's for the noble cause."

Bidding for the tees (which are being sold as a job lot) currently stands at a whopping 10,000 US dollars, so unfortunately the time has come and gone for paupers like us to have a flutter on them - but if you're a Russian oil oligarch or a 15-year-old internet millionaire with at least 10,100 dollars to spare, then why not head over to Dzeko's Ebay page and place your bid?