Commons blames Celtic teammate Ambrose's 'playground' defending for Juve loss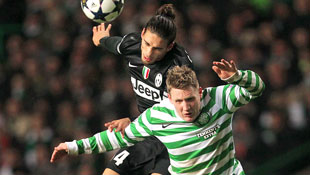 AP PhotoKris Commons, bottom, did to teammate Efe Ambrose off the pitch what Juve did to Celtic on it.
Kris Commons is not pulling any punches in making it painfully clear exactly who he thinks is to blame for Celtic's 0-3 defeat against Juventus in the Champions League Tuesday, laying the blame squarely (and repeatedly) at the feet of teammate Efe Ambrose.

Ambrose had just returned to Glasgow from the African Nations Cup in the morning and went on to make a string of goal-hemoraghing errors over the course of the evening while failing to tuck away Celtic's best chance with a feeble header at the other end.

Commons was quick to single out the Nigerian for his "playground" defending, telling BBC Scotland:

"Look, the manager picked him. The manager pulled him to one side and asked him if he was feeling okay. He said he was feeling brilliant.

"If he wasn't feeling okay, then he should have said so. If he felt good then he should have put in a better performance.

"It was just very sloppy individual mistakes – something you'd probably get away with on a playground, not in the last 16 of the Champions League."

Commons continued:

"There are certain individuals who let the team down. Hopefully this is just a one-off.

"The back four have made errors which have probably cost us the tie. But it's partly down to them why we're here in the first place.

"It's just a bitter one to swallow."

So much for esprit de corps, eh? On a night when Commons could've reasonably blamed Juve's WWE-style man-marking techniques, some incredibly questionable refereeing decisions or the fact that Celtic's opponents were just that much better, he goes and publicly points the finger at his own man.

What a fool.