One (day) & done: Bury's quick release of Yulu-Matondo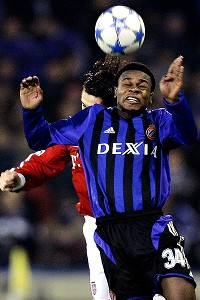 Lars Baron/Getty Images Jeanvion Yulu-Matondo (shown in 2005) will not have fond memories of his very short stint in Bury.
Sometimes you've just got to hold your hands up and admit that you've made a bad investment: the 24-month gym membership, that vintage tweed blazer you thought you could pull off, naked photos of Whoopie Goldberg, Christopher Samba, etc.

It took League One side Bury just one day to realise that, in signing Belgian free agent Jeanvion Yulu-Matondo, they'd made a terrible mistake.

Having signed with the club on Monday following what was presumably a fairly impressive three-week trial, former Belgian U21 international Yulu-Matondo managed to fit in one solitary appearance for the reserves before the Shakers sent him packing, with manager Kevin Blackwell telling the club's website:

"Yulu was a free agent; he was out of contract and had shown a little bit in training. I signed him with a view to looking at him in the reserves against Bolton."

"If he had shown something in that game, I might have been able to throw him on the bench – as it is, he's on the next flight back to Brussels."

Bet Liverpool are wishing they thought of this when they went and spluffed 35 million pounds on a lagered-up pit pony with the turning circle of a cross-channel ferry not so very long ago.