Norwegian 8th division club made serious bid for David Beckham: offered No.7 shirt and free sports bag!
Shortly before David Beckham decided to spend the next five months of his life swanning around Paris, the following document -- a lucrative contract offer from Norwegian eighth division club FK Orn Kristiania -- landed on the desk of his representatives in Los Angeles.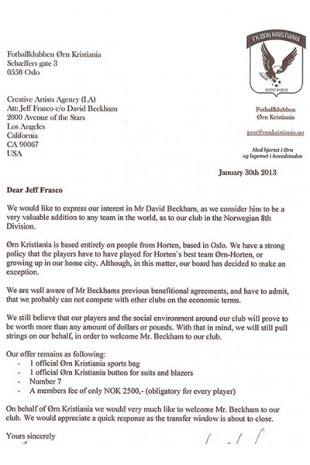 Courtey of RedditFK Orn Kristiania's offer letter to David Beckham.
They may not have quite as much to their name as Qatar-funded PSG, but you can hardly accuse FK Orn of holding back in their attempts to lure Beckham away from the French capital -- throwing several incredibly tempting 'sweetners' his way, including a discounted club members' fee, first dibs on their No.7 shirt (Jeremy Menez is currently hogging PSG's), a lapel button/badge and... wait for it... an official FK Orn Kristiania sports holdall!

If you were Beckham, you would, wouldn't you?

(Image via Reddit)