Paul Scholes has car stolen while de-icing it on driveway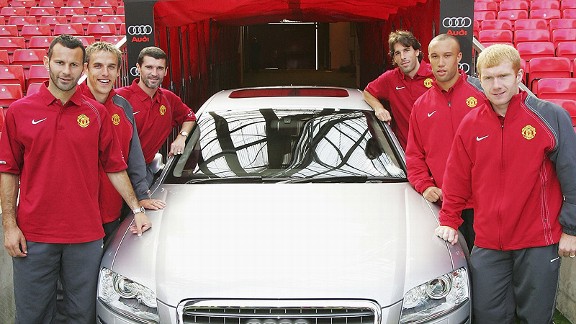 Matthew Peters/Manchester United/Getty ImagesPaul Scholes, front right, may be in the market for a new car.
"Don't let this one out of your sight boys!"

Paul Scholes' Monday morning got off to a bit of a naff start when the Manchester United old-timer had his car nicked from outside his front door while he left it ticking over to defrost.

According to the Manchester Evening News, Scholes started the engine on his 30,000 pound Chevrolet Captiva estate (which he was given free when Chevy signed their sponsorship deal with United), left the keys in the ignition and doors open, popped back indoors for one last bathroom visit before driving to work and by the time he made it back out onto his drive the car was gone.

He was too late to tackle the thieves? The irony is delicious.

You'll be glad to know that the theft, which occurred between 7:45-8:00am yesterday morning, has since been reported to police and the Greater Manchester Police are in the process of hunting it down.