Lazio's Luciano Zauri rescues granddaughter of Polish FA president from four-metre deep well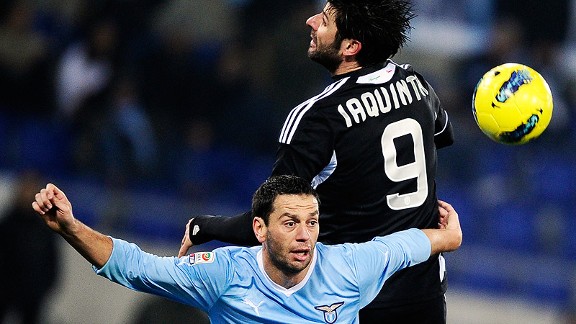 Filippo Monteforte/AFP/Getty ImagesLazio's Luciano Zauri took his defending role to heroic heights by saving a seven-year-old girl from a well.
Picture the scene: Lazio defender Luciano Zauri is sat peacefully making his way through a plate of spaghetti arrabiata and a glass of semi-expensive red wine at a restaurant in Rome with a cassette of Mariah Carey's 'Hero' playing softly through his Walkman headphones as he does every Sunday -- when suddenly there's a dramatic crash from the other side of the room as a small girl falls down a strategically placed well.

As Carey warbles "look inside you and be strong" in his ear, Zauri seizes his chance, leaps from his table; spaghetti flying everywhere, and runs over to the well in slow motion, tearing off his shirt and using it as a tether to winch himself down into the pit and pull the distressed maiden to safety without giving his own well-being (yuck yuck!) so much as a second thought.

Now, granted, we don't know if this is exactly how it went down in Ponte Milvio on Sunday afternoon, but the basic facts are there. Zauri was indeed tied up and lowered into a restaurant's ornamental well to help rescue a seven-year-old girl who had fallen into it and become trapped.

Just to add even more pizzazz to the story, this wasn't just any seven-year-old girl. This was the granddaughter of former Poland, Juventus and Roma legend Zbigniew Boniek, who is currently serving as the president of the Polish FA.

La Repubblica are reporting that Boniek's granddaughter fell into the four-metre deep well when the wooden slats that were covering it broke as she was climbing on it. After being pulled out by Zauri, the girl was taken to hospital with minor cuts and bruises but nothing more.

Luciano Zauri, eh? What a hero! Mariah would be proud.