Rio Ferdinand surprises charity worker with random act of kindness on train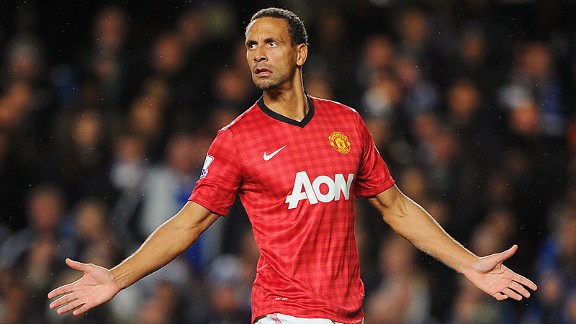 Michael Regan/Getty ImagesYou never know what might happen if you tweet at Rio Ferdinand.
Those who follow Rio Ferdinand on Twitter will be well aware that he largely uses his account to tweet little vignettes about how foggy it was on the school run, regaling his followers with the subtle repartee of various taxi drivers and every so often insulting people by likening them to certain items of frozen chocolate confectionery.

Not so Thursday, when @rioferdy5 used his social media fetish to perform a random act of kindness for a stranger on a train between Manchester and London.

Amazed that she was sitting in the same carriage as Ferdinand, commuter Michelle Clarke texted her friends to brag that she was hob-nobbing with the Manchester United defender.

It just so turned out that one of those friends, a woman by the name of Laura Wilson, runs a charity called Dance Aid, and she seized her chance to talk to Ferdinand about her organisation, which helps to care for vulnerable children through the medium of dance.

Unbeknownst to Michelle, who also works for Dance Aid, Laura tweeted Rio, asking: "Hey Rio any chance u might b on a train southward from Manc?! 1 of our ambassadors has spotted u! In fact she's sitting opposite!"

Incredibly, Ferdinand saw the tweet on his timeline and moved, completely unannounced, to sit opposite Michelle in the carriage and began chatting to her about Dance Aid and what he could do to help raise awareness for their cause.

Laura told Eurosport:

"Michelle had texted a few mates to tell them she was sitting opposite Rio Ferdinand. Some were texting back to ask for a photo, the Liverpool fans were saying, 'Trip him over', that sort of thing. But I said, 'You are not getting off that train until you have spoken to him about Dance Aid.

"She said she would never have the (courage) to do that, so I tweeted him to tell him an ambassador of the charity was sat opposite him. I texted her to tell her and she was going completely crazy.

"Then he initiated the conversation and she was completely flabbergasted. I think both of us thought that it was just a tweet and he wouldn't do anything, and we were utterly amazed when he did.

"He has asked me if I could email him information about the charity and about how he can get involved, and he has been very enthusiastic about it from the get-go, presumably thanks to whatever Michelle told him."

Good guy Rio!