Rapid Bucharest sack every single foreign player by email to cut costs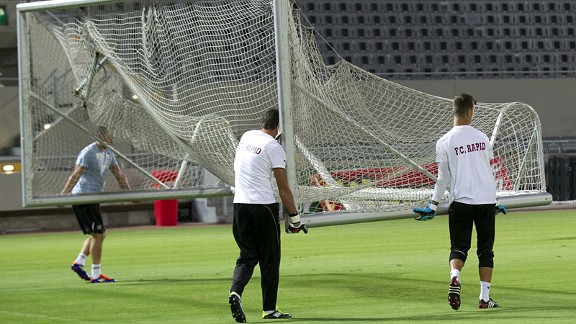 GettyImages"C'mon lads, these things are going on Ebay"
Either they're taking the term 'January sales' ridiculously seriously or things really are tight at Rapid Bucharest at the moment.

Having recently filed for insolvency over significant amounts of debt, the Romanian club have hatched an ingenious plan to further slash their monthly outgoings: sack every single foreign player in their squad.

Now don't worry, this isn't some kind of Zenit supporter-style manifesto, it's simply rooted in the fact that Rapid pay their overseas players higher salaries and the club wish to start anew with a young, homegrown squad to bring their wage bill down.

That doesn't mean their doing it gracefully though, with manager Danut Perja telling local news that the 11 non-Romanian players in his squad will be sacked by in the most impersonal manner possible:

"We renounce all foreigners. All of them will receive the documents under which their contract are terminated unilaterally by email."

Rapid's Macedonian striker Blaze Ilijoski has already secured himself a winter move away from the Giulesti Stadium, though ten other players: Brazilian quintet Pecanha, Wallace, Glauber, Renan and Figueiredo; Portuguese pair Rui Duarte and Filipe Teixeira; Serbians Milos Pavlovic and Nemanja Milisavljevic and Montenegrin defender Vladimir Bozovic will all watching their inbox with interest over Christmas.