January window: Time to place bets on youth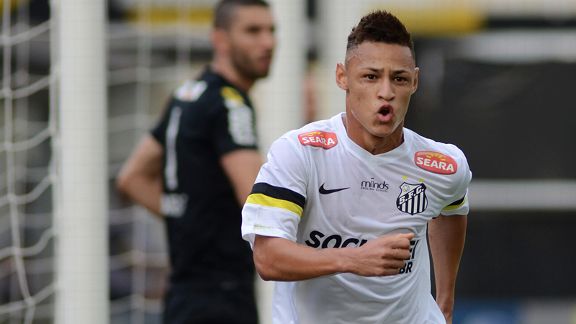 GettyImagesNeilton, of Santos, is raw but in time could prove to be a bargain.
The winter transfer window greatly divides opinion. "The players we would like to bring in are probably not available in January," was the view of David Moyes this weekend, while it is only too common to hear that "there is no value in the market" at the current time of the year. However, to others, it is a lifeline at the midpoint of the season. While the Manchester United coach's intended additions may not be available, plenty of players will be and, as has been proved on multiple occasions, value is simply a matter of perspective.

Liverpool are riding high near the top of the Premier League at present, with an attacking unit that is based around three players who have arrived in January windows past: Luis Suarez, Daniel Sturridge and Philippe Coutinho. All three arrived for very reasonable prices, given the virtue of hindsight, but were somewhat of a gamble at the time. It is a month when, with the majority of those available either ageing players now out of favour or emerging youngsters on the lookout for minutes on the pitch, thinking outside the box is the order of the day. For players, though, it is an invaluable opportunity to rectify careers that are perhaps in danger of stalling --- with both Sturridge and Coutinho prime examples of such.

Whether it be a permanent move or a loan, it is the time of year when players are well aware of their prospects of playing time and clubs are willing to take a risk to ensure their objectives are met. Opportunities may not be abundant to sign those regarded as leading players, as Moyes would attest, but if clubs are willing to broaden their horizons there are still plentiful options worth examining, especially in a year leading up to a World Cup.

Who, then, are the best young talents that should be on managers' radars this month?

1. Sergi Roberto (Barcelona)

While he is unlikely to be allowed to depart on a permanent deal, Barca midfielder Sergi Roberto's lack of playing time this season should mean that the player is allowed to look for the opportunity to further develop for the rest of the season. Following the departure of colleague Thiago Alcantara last summer, the 21-year-old would surely have expected to be used on a semi-regular basis this campaign. However, just one start in 18 league matches to date would suggest otherwise.

Sergi is everything that has come to be expected of La Masia products, combining excellent close control and passing ability with tactical understanding of the game around him. However, he is at risk of stagnating if he is not handed further first-team exposure in the near future. A loan move until the end of the season could be the ideal stepping stone for the player ahead of what should be an increased role in the 2014-15 season.

2. Salim Cisse (Sporting)

Having made his name in the Portuguese top flight with Academica, it is somewhat disappointing to now see Guinean forward Cisse floundering in Sporting's B side in the Liga de Honra. While his record is impressive, he is too good a player for that level and should be looking for a move away on either a temporary or permanent basis this month.

At 21, Cisse is still very much learning his trade as a striker and has much work to do on improving his hold-up play with his back to goal. However, he has proved to be a good finisher with either foot, while his height means that he will always be a threat in the air. If Sporting are not inclined to use him, with Fredy Montero scoring plentiful goals, then they would be best advised to allow their prospect to continue his development elsewhere for the time being. For any club looking to add some goals to their side for the remainder of the campaign, he could be a decent low-cost option.

3. Gabriel Iancu (Steaua Bucharest)

Talented 19-year-old winger Iancu joined Steaua a year ago from Viitorul Constanta but has failed to make himself a regular in the club's first team after a handful of disagreements with the club's coaching staff. However, he has shown in brief glimpses in the UEFA Champions League that he is capable of performing at a high level and will no doubt be on the radar of some of Europe's bigger clubs.

Iancu would not be cheap, with the reputation garnered even at this early stage of his career ensuring that Steaua will demand a decent fee for his services. However, his current situation will also ensure that his current valuation is as low as it is likely to be for some time. Iancu would be somewhat of a gamble, given that he is yet to prove himself at first-team level over a sustained period, but his undeniable flair and technical ability mean that the potential benefits far outweigh the risk.

4. Tomas Kalas (Chelsea)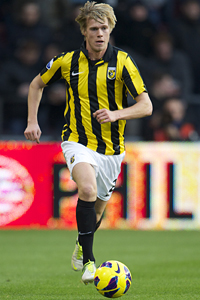 GettyImagesChelsea's Tomas Kalas at Vitesse.
"I would go anywhere where it would give me what I want to keep improving. The main thing is to be playing regularly," Kalas said of his own future last week, as reported by Sky Sports. His frustrations are clear, having spent two full seasons playing regularly for Vitesse only to find himself firmly on the sidelines upon his return to Chelsea. The Czech defender, 20, had begun to build a strong reputation and deserves the chance to continue building his game in competitive action.

Kalas must still work on imposing himself upon a defensive unit, but has all the physical and technical attributes required to be a good defender at the highest level. While Chelsea may feel that he had reached the peak of his development potential at Vitesse, a return to the Eredivisie side would be a vast improvement upon inactivity in West London. With a view to playing more for the Blues next season, though, a spell in English football may be the preferred option and there are bound to be sides on the lookout for a versatile and talented defender for a few months at the end of the current campaign.

5. Neilton (Santos)

Neilton has often been touted as the "next Neymar" over the past couple of seasons and, while he is far from that level, he is an undoubtedly talented young forward. With his contract expiring in May and a deal not yet close to completion, there is a window of opportunity for any side to tempt the young forward away from Brazil this January for an inexpensive fee.

Neilton is raw and will frustrate supporters with his sloppiness in front of goal, but he also has the ability to run at and beat opponents, creating chances in the process. For any club willing to put in the time and effort to bring the best out of his abilities, he could prove a real bargain. His attitude and commitment are often said to be exemplary, while he has shown significant improvement over the past 18 months. He may not be a superstar in the making, but he could be a very useful option at a much reduced price for anyone who moves quickly.

For further discussion on any of the players featured in The Scout's Notebook, Christopher can be found on Twitter @chris_elastico. More of his work profiling rising talents can be found at TheElastico.com.