Chelsea youngster Piazon gathering speed with Vitesse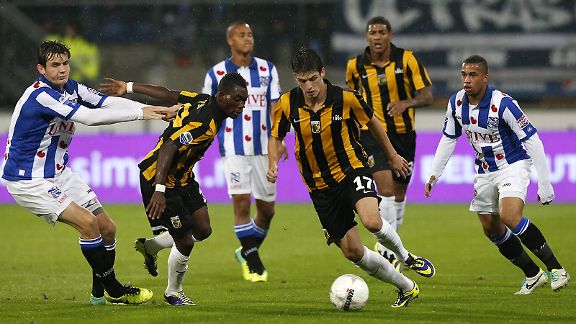 GettyImagesVitesse's Lucas Piazon scored a brace against Heerenveen.
Name: Lucas Piazon
Age: 19
Club: Chelsea (on loan at Vitesse)
Position: Inside Forward/Second Striker
Nationality: Brazilian

Whether or not to switch to European football is a dilemma that presents itself to many South American youngsters. Indeed, there are multiple schools of thought as to the best age for players to make the leap into the unknown. The truth is, there is no exact formula as to the best method to develop youth talent, with the outcome of any move dependent upon an extraordinary number of factors and the initial plan is far from exact science.

A prime example of someone to have made such a switch is Chelsea's Brazilian forward Lucas Piazon, whose move from Sao Paulo was arranged well in advance of his 18th birthday in January 2012. A player who has featured in the Scout's Notebook on several occasions, Piazon was a star of Brazil's Under-17 side at the 2011 South American championship and World Cup the same year.

However, as one of the more physically developed of the side, there were doubts if he could transfer his skills to senior level and he was yet to make a senior appearance for Sao Paulo. Through hard work and adaptability, though, he has gradually worked his way into a starring role at first-team level, albeit away from Stamford Bridge.

Via the Blues' Under-18, reserves and a six-month loan at Malaga, the tall inside forward has ended up in the Eredivisie with Vitesse, whose partnership with Chelsea is proving highly effective for both parties. One of several players from West London spending the campaign in Arnhem, Piazon's 10 goals and eight assists from just 15 appearances have sent the side to the summit of the table. Coming off the back of six consecutive league wins, it is a position they look unlikely to concede soon.

Talking about his loan spell just a few weeks ago, Piazon made it clear that he was relishing the opportunity that has presented itself.

"At my age, it's very difficult to be at a big club like Chelsea," he said. "Of course, we all want to be there [with the first team] as soon as possible, but it's not easy. I tried to do a good job in preseason and to stay there, but they have a great group with a lot of very good and very experienced players. I'm happy here [at Vitesse] and I'm trying to improve, to get better and go back."

Following the summer arrival of Jose Mourinho, the Blues strengthened considerably in attacking areas once more, and the Brazilian was among those to find his route to the first team blocked. However, just a few months later, it would appear that a second exit on loan has been the kick start that his senior career required, having stepped up to become an essential figure for the Eredivisie title challengers.

Playing from the left flank he has formed a fine understanding with centre-forward Mike Havenaar, cutting in from the wing to both create and convert opportunities on his stronger right foot. He is the definition of a "head-up" player, looking to spot opportunities for colleagues or move into space in and around the area.

On his right foot, in particular, he possesses the quality required to make the decisive contribution required. Add in excellent set-piece taking abilities and it is clear why he is scoring quite so many goals in Holland this year.

"All the teams try to play real football and build from the back. They are always trying to improve and to press forward," he said about the Dutch game. "It makes the games here really attacking and I enjoy that."

However, the attacking nature of the game frequently raises doubts as to the ability of many Eredivisie goalscorers to perform elsewhere. He, too, will have to face such comments upon completion of his loan spell next summer. However, what his current rich vein of form will do is offer encouragement as he continues to build on his game, with a regular place in the Chelsea first team the ultimate aim.

There is no guarantee that he will ever succeed in that ambition and, indeed, there is a substantial learning curve ahead. However, Piazon is already making waves with his showings in Netherlands, and there are the first signs of support building for his inclusion in the national side.

With the World Cup next summer and several top players ahead of him, though, there is no need to rush his development and he can be allowed to gather confidence away from the limelight.

The challenge the young Brazilian faces is coping with the fact he will now be a marked man, with defences now set to be better prepared for his arrival. He must learn to adapt to the added pressure and maintain his form for the duration of the campaign, with his parent club doubtless tracking his progress throughout.

It may take another couple of years before Piazon is seen as ready for Chelsea, with another loan move perhaps on the cards next season. However, there can be no doubt that the elegant Paulista forward is currently exceeding expectations in Holland and justifying the decision he and his family made to leave Brazil at such an early stage in his development.

It is a decision which carried significant risk at the time, but demonstrates the necessity of young players to adapt to changing circumstances. Already playing in the fourth country of his brief footballing career, they are challenges that Piazon is embracing and, as a result, he has improved from every step of his development.

For further discussion on any of the players featured in The Scout's Notebook, Christopher can be found on Twitter @chris_elastico. More of his work profiling rising talents can be found at TheElastico.com.