Brazil youngster Mosquito has Premier League scouts buzzing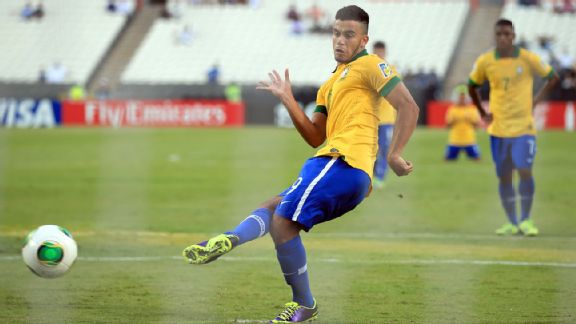 Richard Heathcote/Getty ImagesMosquito starred for Brazil earlier this year at the Under-17 World Cup.
Name: Thiago Rodrigues da Silva (Mosquito)
Age: 17
Club: Atletico Paranaense
Position: Striker
Nationality: Brazilian

He is a headline writer's dream, but there is proving to be much more to Mosquito than just a quirky name. He was the top-scorer at the 2011 South American Under-15 Championship, but had seen contractual disputes hinder his progression over the following two years. Four goals and some excellent performances at the 2013 Under-17 World Cup, though, and the vultures are flocking around the young striker, with his 18th birthday in January potentially opening the doors to an international transfer.

If club colleague Nathan was the star for Brazil at the recent event in the UAE, Mosquito was certainly among his closest rivals. His efforts did not go unnoticed, with the Mirror's Ed Malyon reporting this week that Manchester United, Chelsea, Juventus and Real Madrid are all in the hunt for his capture next month. It is all a far cry from the difficulties that the striker has faced over the past two years and, indeed, throughout his life to date.

The young Thiago's grew up in Rio de Janeiro's Cidade de Deus or "City of God", however, the small and shy youngster would manage to avoid the perils of his local area, with his footballing talent taking him into futsal with first Fluminense and then Flamengo. However, it was at a third Rio de Janeiro giant, Vasco da Gama, where he first came to wider prominence with his performances for the Under-15 national side.

Given his nickname while at Fluminense -- owing to his size and speed around the futsal court -- Mosquito has now matured into a physically strong player whose figure is somewhat at odds with his moniker. Indeed, in the two years since his first emergence, it has been his physical development that has been particularly pleasing --with his technical abilities already strong from an early age. Perhaps, then, the travails that saw him spend a year out of the game have seen him benefit in other ways.

It was his move from Vasco to Atletico Paranaense that provoked outrage. Rules agreed upon between Brazil's leading clubs forbid the active recruitment of players prior to them turning professional, to prevent the poaching of young talent by bigger clubs. Vasco, though, have failed to pay their academy players on a regular basis and Mosquito was one of the first to walk away, with Atletico willing recipients. The result, though, was outrage and talk of boycotts if the club were invited to appear in youth tournaments. As a result, for the entirety of the 2012 calendar year, Mosquito was unable to represent his new side in competitive matches.

Such an extended absence has the potential to damage a young player's progression, but Mosquito has dealt with the situation well. He returned with strong performances in the 2013 Paranaense Under-17 championship and, later on, with the national team setup. While many had pushed the claims of Manchester United-linked Bruno Gomes as the better option for Brazil in the UAE, there can be no complaints about Mosquito's showings.

His relationship from club level with Nathan would have helped and there was a clear understanding of each other's games which was visible in the intelligent movement demonstrated in their Group Stage games. While predominantly right-footed, he has shown the ability to finish instinctively off either side and retains the pace that initially set him apart from the crowd, despite his new, tougher physique.

While it is difficult to judge exactly how he will develop, with the coming years key to the overall development of Brazil's 1996 generation, the basics are in place for Mosquito to head straight to the upper echelons of the game. However, as ever, plenty of hard work and good fortune will be required to see his talent fully fulfilled.

Of the clubs linked with his services, the suggestion of a move to Chelsea is now the most frequent. It is suspected that the Blues would look to instantly move the Brazilian on to Dutch side Vitesse, who currently sit atop of the Eredivisie in part due to Blues youngsters Lucas Piazon, Christian Atsu, Patrick van Aanholt, Gael Kakuta and Cristian Cuevas. There, he would be expected to develop his skills and prove himself ready for a role in the Chelsea squad, much as Piazon and company are doing at present.

Wherever he does end up, even in Brazil, there will be similar challenges. His growing reputation may bring opportunity, but it will also bring levels of expectation that many a young hopeful has failed to reach. Mosquito is heading in the right direction and has done brilliantly to overcome significant obstacles thus far in his early life and career. To reach the pinnacle of the game, though, the hard work must continue in earnest for some time yet.

For further discussion on any of the players featured in The Scout's Notebook, Christopher can be found on Twitter @chris_elastico. More of his work profiling rising talents can be found at TheElastico.com.