Weekend Review: Everton trio, Barca's kids and Lorient's striker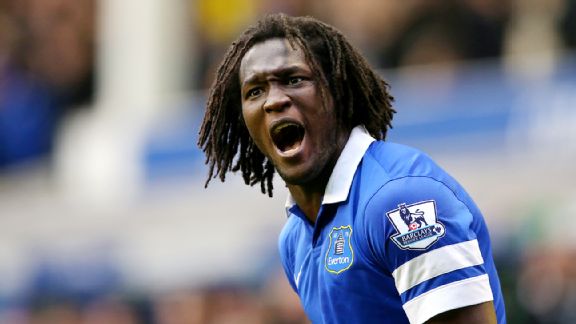 Alex Livesey/Getty ImagesRomelu Lukaku may have scored twice for Everton against Liverpool, but the Belgian striker still struggled with his hold-up play against the Reds.
The Scout's Notebook returns with its weekly look at the top youth performances of the past weekend and, as ever, sees some excellent talents deliver some outstanding performances.

However, among those standout moments were also reminders of certain individuals' inexperience and need to work on aspects of their game. After all, it can often be easy to forget in the heat of the moment just how young some players are -- with many familiar faces still before their 21st birthday.

Where, then, does the focus of our attention lie this week?

Everton trio produce mixed results

The Merseyside derby on Saturday was a thriller, with both sides leaving a 3-3 draw with the feeling that, perhaps, they should have come away with more. Liverpool's individual talents helped match the all-round excellence of the Everton side, with Luis Suarez once more prominent for the Reds. However, the standout youth performances came on the Blue side of the divide.

Belgian Romelu Lukaku's two goals were headline-grabbing and well taken. However, in truth, the on-loan Chelsea forward had a difficult night in direct competition with the excellent Daniel Agger. His quality shone through with what was a calm finish on his weaker foot and a powerful header from a corner, but there was plenty for Lukaku to learn from the game in terms of hold up play. At times, the ball appeared to bounce off him when played in from midfield, with Agger usually in close attendance.

Instead, it was rather midfielder Ross Barkley who was the star youth performer on the day. The England international is raw and his game needs refinement, but he has the potential to be a special player. Barkley has the capability to drive forward with the ball from midfield, to beat a man and open up space between the defensive and midfield lines. He is not dissimilar in many ways to a young Steven Gerrard and has a similar ability to fill a number of midfield roles. With experience, he will tighten up on some of the mistakes he can make at present, but it is important that he retains ambition in his play.

The final member of Everton's trio was Gerard Deulofeu, who also had a mixed time of things in the derby. At times, he was excellent, beating John Flanagan and Martin Skrtel down the channels with ease, although his final ball was not always as hoped. However, it took until the game opened up in the second half for the young Spaniard to come to the fore. All three Toffees youngsters will be fine players, but all have areas of their game to develop if they are to really place themselves among the best in the world. For their age, though, they are progressing excellently.

Barca starlets old and new

Barcelona fans were introduced to a new first-team face this weekend in the form of 17-year-old winger Adama Traore.

Traore, born in Spain to Malian parents, has been regarded as one of the brightest prospects in the Catalan club's academy for some time, including playing and starring in the NextGen series early last season at just 16 years of age against some of the continent's best young players.

Traore did not get long on the pitch on this occasion and, indeed, is yet to even appear much at B-team level. However, he served notice of his considerable talent in one driving run from the left, skipping inside past Allan Nyom and Pape Diakhate before firing a shot straight at goalkeeper Roberto.

However, caution must be advised as ever once the hype machine begins to whir into action. Barcelona have seen many young talents emerge in recent years, but very few have gone on to reach a level that is worthy of a regular berth in the club's first-team. Traore undoubtedly has that potential, but reaching that point will take a lot of hard work over the next few seasons.

One such former "wonderkid" is Celta Vigo's Rafinha, brother of now Bayern star Thiago. The younger of the two Alcantaras is still well regarded at the Camp Nou and, at just 20, has time on his side. However, he must make the most of his loan spell in Galicia.

Thus far, signs are good. The Brazil international has started nine games thus far this campaign and, despite dropping out of the side for a couple of recent fixtures, has generally been impressive. As expected of a La Masia graduate, he is adept at retaining possession and has been placed in an advanced position within the Celta attack. Indeed, his two goals this weekend showed a new side to his game in determination, strength and heading ability.

Gaining experience on loan can only be good for the youngster, who signed a new Barcelona contract only this summer. Given the struggles of former B-team colleague Sergi Roberto to earn a first-team berth at the Camp Nou this season, it is a decision that would seem to be working out for the best.

Aboubakar coming good?

In recent seasons, Lorient have been one of the more interesting teams to observe in Ligue 1 from a scouting perspective, with the likes of Alain Traore, Bruno Ecuele Manga and, before them, Laurent Koscielny all making a significant mark at the club. This season, though, it is 21-year-old Cameroon striker Vincent Aboubakar making the headlines.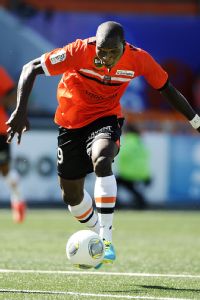 Getty ImagesVincent Aboubakar has scored seven goals in his first season at Lorient.
Aboubakar moved to France aged 18 to join Valenciennes and showed initial promise, scoring six Ligue 1 goals in just his second season at the club in 2011-12. For all his successes, though, he remained an inconsistent figure who was heavily reliant on his natural strength to succeed.

Following a poor 2012-13 season, the striker was allowed to leave on a free and was picked up by Lorient as somewhat of a speculative purchase. Thus far, though, their faith has proven justified with Aboubakar scoring seven goals and, per Squawka, creating the second most chances of anyone on the side at the same time.

That statistic is testament to the Cameroonian's hold-up play, with his sizeable stature meaning he is capable of holding up the ball well. He is also quick off the mark, as shown in the taking of his goals this weekend -- as well as a second half penalty won when racing in behind the Evian defence. His finishes, also, portrayed a player full of confidence.

He must continue to work on his finishing, while he should do better in the air for a player of his size. However, the signs are positive that a change of scenery this summer has given Aboubakar a fresh lease of life. At 21, he is still very young to be playing as a lone centre-forward in a top European league and, at present, is showing that he is up to the task. He is certainly one to watch if he can continue to improve his game as he has in recent months.

For further discussion on any of the players featured in The Scout's Notebook, Christopher can be found on Twitter –@chris_elastico. More of his work profiling rising talents can also be found at TheElastico.com.