Scouting America: Is Brek Shea a bust?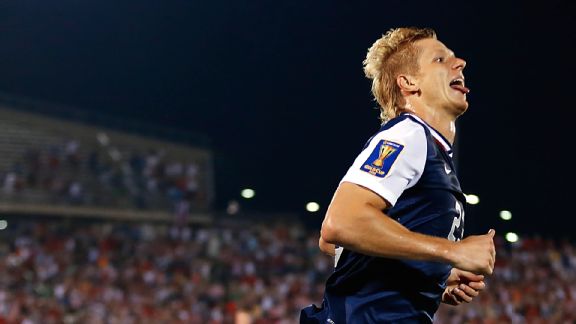 Jared Wickerham/Getty ImagesBrek Shea can still make it in the Premier League despite struggling to assert himself at Stoke.
This generation's young, up-and-coming American soccer players have it a lot harder than their predecessors.

As the world becomes smaller thanks to the internet and the ever-expanding television coverage of soccer in the United States, fans are able to literally track week-to-week how their favorite United States player is faring in whatever league they are currently in.

It's a far cry from the '90s that saw revered U.S. stars like Brian McBride and Eric Wynalda bounce from club to club until they found the right fit. Back then, there was no pressure and for Americans trying to acclimate to new playing styles and different cultures and a guy like McBride could become a legend at Fulham because there was no weight of expectation.

This of course leads to Brek Shea, one of the most hyped American starlets to come out of Major League Soccer over the past few years. Both on and off the field, Shea has had a lot of difficulty adapting to England's Premier League -- the world's most popular sports league. The 23-year-old has the physical tools -- height, speed and strength -- to be a legit star in Europe but he clearly hasn't made an impression on either of Stoke's managers, Mark Hughes and Tony Pulis, during his first year at the club as evidenced by having only two EPL appearances.

If this was 2011, a case could be made that Shea needs to be brought along slowly and there wouldn't be many expectations. But in 2013, with just over seven months until the World Cup, the former FC Dallas star's inactivity for Stoke couldn't come at a worse time as his lack of form has been visible in his U.S. outings this year. Furthermore, there's a growing concern that Shea may not have his head in the right place.

During his last year at FC Dallas, he visibly berated then-manager Schellas Hyndman on the pitch. Then of course, come Shea's mindless Instagram posts about having guns and exposing a prank on Kenwyne Jones.

While Shea probably had his reasons for lashing out at Hyndman (as evidenced by the volume of fallouts that the ex-manager had with players) and his social media activity is normal for someone who is still very young, he needs to understand how much public perception plays a part in succeeding as a soccer player. Lionel Messi and David Beckham, the world's most lucrative soccer players, have racked in the cash despite being absolute snooze-fests when it comes to interviews and public appearances.

That being said: does Shea still have the opportunity to tap into the massive potential that earned him a trial at Arsenal before ultimately signing with Stoke? Or is he a bust? ESPN FC reached out to a Champions League scout based in one of Europe's top three leagues (England, Germany, Spain) to get an honest assessment of Shea. The scout was willing to give an honest assessment of Shea as long as his identity was kept a secret due to potential club tampering reasons.

Here is the scout's evaluation:

Strengths:
"Shea is another American with great physical aspects. He's tall, strong, powerful over distance, and quick with his first couple of steps. His endurance levels are also impressive, as he can run for days and is always full of energy. This translates into him working on both sides of the ball."

"Technically, he has improved drastically since bursting onto the scene in MLS as a teenager. He's quite comfortable getting the ball to his feet and running at players. Though his final ball still isn't as consistent as it could be, Shea is starting to develop more of a killer instinct with his final pass in the attacking third."

"His size, speed, and power combined with his technical ability make him a very interesting, non-traditional and difficult to defend winger."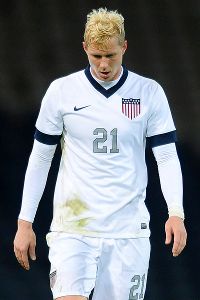 Mark Runnacles/Getty ImagesAmong the things Shea will need to improve: his off-the-ball movement and his on-field awareness.
Weaknesses:
"Despite his good size, he's not as good in the air as he could be. This is an attribute that is easier to improve than some others, and being in England at a club like Stoke that utilizes the height of attacking players will help."

"Technically, improving his weaker right foot will make him even more dynamic in the attack and give him more options when he comes inside. Tactically he is still learning. In MLS he could use his physical attributes to get past defenders quite easily, but in the Premier League and at the international level, he'll need to continue improving his off-the-ball movement in order to create opportunities for himself and others."

"Playing at the top level regularly will help improve his awareness levels, as well as his intelligence, on the pitch."

Why He'll Make It:
"He's got such excellent physical traits that it's hard to ignore his progression on the pitch. During his time at FC Dallas, he proved that he is capable of scoring goals and creating them as well with some excellent assists."

"Though his progression may not be as quick as he and his fans would have liked, he's shown loads of improvement over his past several seasons as a pro and continues to get better when he plays consistently."

"For a player like him, making the jump from the U.S. to the Premier League wasn't as straightforward as he would have liked, but he'll need to remain persistent in order to make it."

Why He Won't Make It:
"At 23 he isn't old by any means, but having already made the jump to Europe, he'll have to either break into Stoke's team soon or look elsewhere to play regularly. Jozy Altidore is a perfect example of this, having finally found consistent football (and goals) at AZ Alkmaar before making his move back to the Premier League and Sunderland."

"In this period where he's not playing, he also has to be smart off the pitch -- several posts of his on social media have got him in some hot water while at Stoke. When a player doesn't find himself in the starting eleven consistently, he has to do everything he can to show the manager he is completely focused on breaking into the team, and that has been questioned several times already with Shea."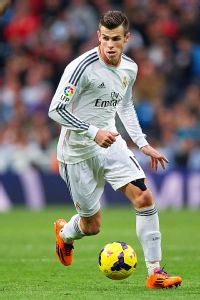 Gonzalo Arroyo Moreno/Getty ImagesReal Madrid star Gareth Bale was once considered a bust, proving that Shea can still turn his career around and dominate.
Similar Playing Style: Gareth Bale
"Though Shea and Bale are on different levels when it comes to their ability on the pitch, they both share similar qualities."

"Fast and powerful left-sided wingers over six feet tall are hard to come by in world football. Bale has proven over the past several seasons that he is more than capable of taking over a game with big runs that start in wide areas and either end in crosses from the end-line or in shots from central areas."

"When confident and comfortable, Shea has shown he is happy running at players and able to score goals and create goals as well. Bale and Shea also went through an identity-crisis of sorts, having both played at left-back earlier in their careers, before settling in at more attack-minded positions on the wings."

"Let's not forget that Bale was considered a bust just four years ago."

Rate this out of 5 for each:
Dribbling: 3
Finishing: 3
First Touch: 3
Passing and Vision: 3
Speed: 4
Aerial Ability: 3
Strength: 4
Injury: 4 (where 1 means he gets injured a lot and 5 means he's always fit)
Maturity: 2
Defense (Marking, Tackling): 4
Score: 33 out of 50

Potential Score: 39

Ratings meter:
0-10: Not even NASL level
10-15: Average NASL player
15-20: MLS role player
20-25: MLS starter
25-30: MLS All-Star
30-35: Starter on mid-, low-table EPL side or role player on top team
35-40: A solid starter on a top EPL club
40-45: A legit star player
45-50: Messi, Ronaldo

Current transfer fee: $3,500,000
Future transfer fee: $10-15m