Familiar names shine in U-21 international fixtures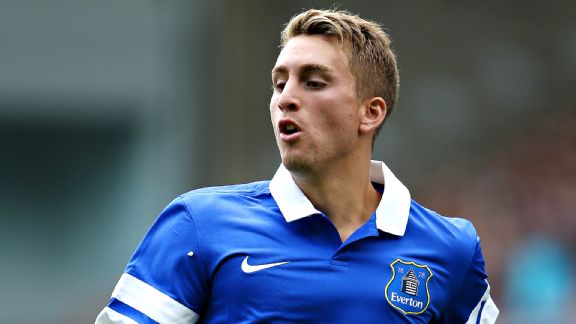 Clive Brunskill/Getty ImagesAlthough creative in attack, an improvement in his defensive play is still needed for winger Gerard Deulofeu.
It's international week. Once again, that means attention turns to youth internationals for the young stars of the past week. Often it is a chance for new names to shine. However, on this occasion, it has been some familiar faces who have stepped up over the last few days—names who have previously featured in this column.

So, which players have caught the eye in national colours?

Gerard Deulofeu takes starting opportunity

When Barcelona youngster Deulofeu moved to Everton at the start of the campaign, it was doubtless in the hope of increased top-level playing time under Catalan manager Roberto Martinez. However, despite some lively cameos, he has thus far been unable to make much of an impact on the high-flying Toffees.

Everton's success has hindered Deulofeu's chances, with Martinez reluctant to change what has been a winning formula. However, the fact remains that he is talented enough to make an impact at some point in the season if given the opportunity.

In a starting berth on the right of the attack for his country's Under-21 side, Deulofeu showed his potential impact with two goals and a major role in four further strikes against Bosnia and Albania. The duo will not be the toughest opponents he will face this season, but it does not take away from his contribution to the team.

His goals were straightforward enough -- a penalty against Bosnia and a powerful strike from the right of the area, having raced clear of the Albanian defence. It was rather his key contributions for the goals of others in a 6-1 victory over Bosnia where his quality was confirmed.

Deulofeu had the beating of his marker all night and, indeed, his low crosses from the byline on the right flank provided assists for scores by Alvaro Morata (later put down as an own goal) and Iker Muniain. Indirectly, another cross led to Oliver Torres adding his second on the night.

The La Masia product's directness unsettles defenders. He has shown consistently over a number of seasons that he is an excellent goalscorer, but he is also able to play provider. His dribbling ability and electric acceleration can make him difficult to contain. Even when Bosnia attempted to block off the route down the outside, he was able to provoke a foul and win a penalty for his side.

The Premier League has only seen flashes of what Deulofeu can offer, but his performances over recent days serve as a potent reminder that he is still regarded as one of Barcelona and Spain's brightest talents of recent years.

Florian Thauvin hitting form for club and country

It has been a fantastic year for the French winger, but also a difficult one given the massive increase in expectations he is dealing with and his complicated transfer this summer from Bastia to Marseille via Lille. In recent weeks, though, there have been signs that he is beginning to get to grips with life in the South of France.

-Thauvin hits back over Lille criticism

Thauvin's talent shone through last season and he was an important player for the France Under-20 side that won the age-level World Cup this summer, particularly in the competition's early stages. He has, though, earned plenty of criticism for his conduct during his summer transfer dispute in which he refused to train with Lille until a move to Marseille was completed.

Having made a slow start to life with the French giants, for whom he was often used from the bench in the early season, Thauvin has recently begun to produce on a regular basis. Indeed, his hat trick for France Under-21s against Armenia on Friday night took his tally to six goals, plus an assist against Napoli, in his past five games.

The goal of the game was undoubtedly a 25-yard stunner from Auxerre striker Sebastian Haller, but Thauvin who made the headlines. His goals -- a free-kick, a header and a penalty -- were well taken and there were glimpses of his talent around the park with some neat touches and spritely runs from his position on the left. He may not be everybody's favourite personality, but he is certainly a very capable footballer.

He still has much to learn and, indeed, was kept quiet by Netherlands in the Under-21 fixture Monday. However, if he can continue to build momentum at Marseille, Thauvin will quickly find that many France supporters will move on from his controversies of the past few months and begin to push for his inclusion at senior level. He is a confident individual who can at times be selfish in his play.

However, if he is willing to learn from the likes of Mathieu Valbuena, Andre Ayew and Dimitri Payet at Marseille, he could be a fantastic player further down the line.

WBA striker Saido Berahino adds to recent hype

There isn't much to say about Berahino that hasn't already been mentioned in the media this season, but a brace for England Under-21s on Friday took his tally at that level to six goals in four games since August and only added to calls for his inclusion at senior level.

The Burundi-born striker has long been well-regarded in the England setup, having played as the Under-20 side's centre-forward at the 2011 World Cup when he was just 17. However, few would have expected the impact he has had with club and country in recent months.

Confidence is a remarkable thing and the Baggies striker is already looking completely at home in the Premier League, despite just seven appearances at that level. Manager Steve Clarke has urged patience when it comes to calls for inclusion at senior international level, but the player himself spoke only this week of his hopes regarding a World Cup call next summer.

There has been much recent speculation of a move to one of the Premier League's giant clubs in January, now that talks with West Brom to raise his 850-pound-a-week salary have stalled. Clarke, though, has spoken of his belief that the young striker will remain in the Midlands and, while he is playing regularly, that must be a positive thing.

His success is testament to the work he has put in on his game over the past 12 months, with Gareth Southgate among those to praise his attitude in recent days and weeks. There is a balance to be struck, though, between maintaining his current confidence and overhyping the youngster that could prove crucial to his long-term development.

However, with clubs circling for his signature, it is an increasingly difficult middle ground for Clarke, Southgate and those with Berahino's interests at heart to find.

For further discussion on any of the players featured in The Scout's Notebook, Christopher can be found on Twitter –@chris_elastico. More of his work profiling rising talents can also be found at TheElastico.com.