Scouting America: Should Aron Johannsson start for the U.S.?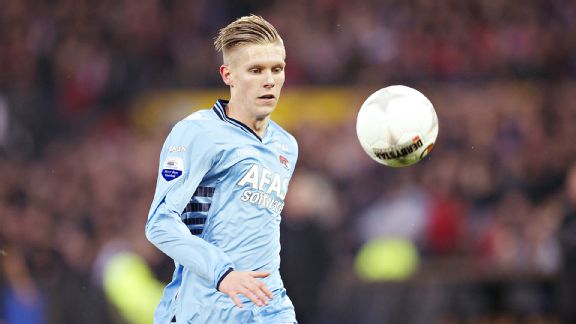 Getty ImagesSimilarly to Jozy Altidore last year, Aron Johannsson has U.S. Men's team fans drooling over his performances at AZ Alkmaar.
Jozy Altidore or Aron Johannsson?

Thanks to an impressive season by Johannsson, who has scored nine goals and two assists in 11 appearances for AZ Alkmaar, it's a question that's growing among fans of the U.S. men's team. While Altidore has been impressive for the Stars and Stripes since June, he remains scoreless in league play for Sunderland and his minutes have dipped under new manager Gus Poyet. Yet that alone won't push out Altidore as the U.S.'s No. 1 striker.

In fact, U.S. boss Jurgen Klinsmann has actually praised Altidore for his decision to challenge himself in what most people consider to be the greatest league in the world, England's Premier League. While the former New York Red Bulls starlet hasn't scored in his first seven EPL appearances, his bruising 6-foot-1 frame has been a handful for most defenders in the league and has been responsible for two of Sunderland's eight goals this season. The 24-year-old striker put up similar numbers to Johannsson for Alkmaar last season but that didn't assure him a starting position under Klinsmann.

Still, there's something to Johannsson that makes his potential mouth-watering.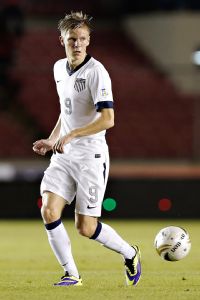 Winslow Townson/USA TODAY SportsAron Johannsson's goal vs. Panama displayed his assassin side.
Simply put, the Icelandic-American is ruthless on the pitch. Like the NBA's Kevin Durant, he has that look in his eyes that says he wants to score, and he is often not denied when he gets the right touch. U.S. observers got a taste of Johannsson's assassin side as he coolly struck home the long-range winner for the Red, White and Blue on the road versus Panama.

While Altidore is a bulldog for opposing defenders for 90 minutes, Johannsson stealthily picks his moments and will score the second a defender doesn't pay attention. Definitely a tough decision ahead for Klinsmann.

To evaluate Johannsson's potential, ESPN FC spoke with a scout currently employed by a Champions League club in one of Europe's top leagues (Spain, Italy or England). The scout was willing to give an honest assessment of Johannsson as long as his identity was kept a secret due to potential tampering issues.

Here is his evaluation.

Strengths

"Johannsson has good size, good pace, and good strength. He's a natural finisher and has that excellent knack to be in the right place at the right time more often than not -- especially in front of goal. He is more than capable of playing with his back to goal but is equally impressive when he's running at defenders with the ball at his feet.

"He can be very composed, natural, and comfortable in and around the box and it shows with his goal-scoring record.

"He's got an eagerness about him in final third that is exciting. He possesses a good ability to sense when possession is about to turn into opportunity and is able to react quickly and accordingly.

"Johannsson not only scores from chances created by others, but he is also more than capable of creating his own goals."

Weaknesses

"Despite being quite a good finisher, he still has quite a bit of room for improvement, especially with his left foot.

"Sometimes he lacks that little bit of concentration/composure when opportunities arise on his weak foot to really punish a team. He's slightly inconsistent when it comes to his first touch. At times he looks so flawless turning out of pressure, or opening up his hips to create an angle or room for himself, but other times his first touch lets him and his teammates down.

"Another one of his positives, his eagerness and energy, can at times be one of his weaknesses as well. The intensity he displays on a weekly basis is hard to maintain for 90 straight minutes, which can result in a dip in concentration levels and ineffective decision-making. This can result in loss of possession as he begins to tire."


Why he'll make it

"He's got a lot of things going his way right now and all signs point that he'll continue to enjoy success in Europe.

"He's gone from Iceland to Denmark to Holland and he's proved that he can score goals wherever he is. With his recent decision to play for the United States, he'll be presented with even more opportunity to make a name for himself.

"The fact that he's a started to earn a reputation as a proven goal-scorer will mean that managers everywhere will always be willing to take a chance on him. His dynamic nature and ability to both create goals for himself and be in the right spot at the right time to score tap-ins is a huge positive and something that won't be overlooked easily."

Why he won't make it

"He needs to become slightly more consistent with several aspects of his game. As mentioned, he can look world-class with some of his first touches, turns, and passes, but other times he gives away possession far too easily.

"He also needs to learn how to manage his concentration levels and aggressiveness throughout a whole match as his energy and eagerness sometimes work against him."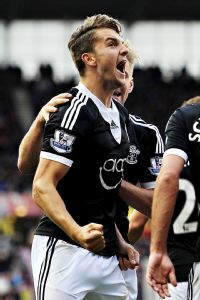 Chris Brunskill/Getty ImagesJay Rodriguez (pictured) and Aron Johannsson could be dangerous strikers in Europe for years to come.
Similar player: Jay Rodriguez

"Both Johannsson and Rodriguez share several very similar traits. They both possess excellent energy levels, can be counted on in front of goal, and are comfortable creating their own opportunities in front of goal as well as getting on the end of their teammates' chances.

"Neither Rodriguez nor Johannsson have established themselves as top strikers in Europe just yet, but they have enjoyed solid returns in recent seasons and continue to impress this year."

Altidore or Johannsson for the USMNT?

"Based off current form, I'd have to go with Johannsson. Altidore is struggling to get into his groove at Sunderland, but he does continue to score at the international level with the U.S. With that said, I think Johannsson brings a different element to the U.S. team.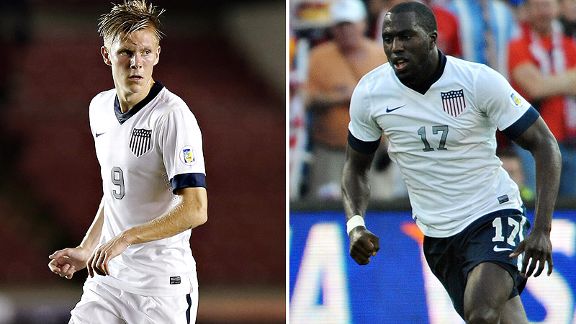 Getty ImagesAron Johannsson vs. Jozy Altidore will continue to be a hot debate between U.S. fans.
"His energy levels are excellent and his ability to drop in and bring the midfield into play or get in behind with his pace makes him difficult to defend. He reads the game so well when his side is in possession, and as the United States continues to improve its attack in wider areas, Johannsson could become that much more useful."

- McIntyre: U.S. depth chart
- Altidore's blog: An awesome birthday


Rate this out of 5 for each

Dribbling: 3
Finishing: 4
First touch: 3
Passing and vision: 3
Speed: 4
Aerial ability: 4
Strength: 4
Injury: 3 (1 meaning he's injured a lot and 5 meaning he's always fit)
Maturity: 3
Defense (Marking, tackling): 3
Score: 34 out of 50

Potential score: 39

Ratings meter:
0-10: Not even NASL level
10-15: Average NASL player
15-20: MLS role player
20-25: MLS starter
25-30: MLS All-Star
30-35: Starter on mid-, low-table EPL side or role player on top team.
35-40: A solid starter on a top EPL club
40-45: A legit star player
45-50: Messi, Ronaldo

Current transfer fee: $5,000,000
Future transfer fee: $9-13 million

Overview

According to the scout's evaluation, a Johannsson and Altidore partnership could also be lethal. Both strikers operate very differently, and Johannsson's ability to drop into the midfield makes his versatile enough to play just behind Altidore:

"An Altidore/Johannsson partnership could be very interesting too, however, if Klinsmann opted to play a 4-3-2-1 with Altidore as the target man and Johannsson and Clint Dempsey playing in creative roles just behind him," the scout said. "This would clearly be a very attack-minded attacking setup, but having a wealth of attacking talent can hardly be considered a problem."