Red hot Chile prospects offer hope for future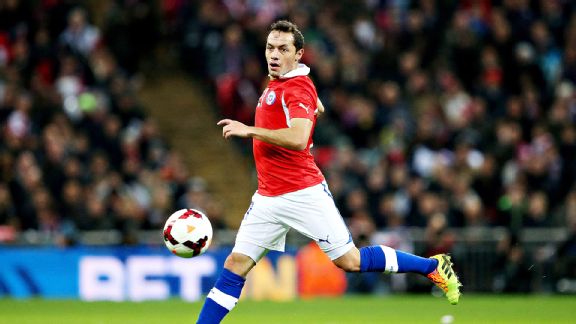 Clive Brunskill/Getty ImagesMidfielder Marcelo Diaz was one of the many Chilean players who shone brightly at Wembley on Friday.
Chile secured a second consecutive win at Wembley on Friday night, with Prof. Jorge Sampaoli's side securing a convincing 2-0 win over Roy Hodgson's experimental side. It should be noted, though, that La Roja, also, were without some key individuals.

- Johnson: Three things: England vs. Chile

Since Marcelo Bielsa's pre-World Cup 2010 reign, the South Americans have been a neutral's favourite, with their fantastic teamwork and swashbuckling style truly appealing to the eye. They may lack megastars, but the likes of Arturo Vidal, Mauricio Isla and Gary Medel are all high-quality players in European football and are backed up by a number of fine individual talents. Charles Aranguiz and Marcelo Diaz, who both played under Sampaoli in his fantastic Universidad de Chile side of 2011, were particular standouts on Friday evening.

There can be no doubting that this is a truly fantastic generation for Chile -- better even than the era of Marcelo Salas and Ivan Zamorano in the 1990s. They have the potential to make serious inroads at next year's World Cup and, with the tournament on South American soil, will find conditions in their favour. However, with the core of their team still young and an excellent generation emerging at the Under-20 level, Chile are set to be a feature of major tournaments for some years yet.

What is particularly promising for Chile is that there is a real balance to their emerging talents. Often countries will find that they are blessed in certain areas, but there are deficiencies in individual positions that will hinder the team's development as a unit. That would appear not to be the case with the current Chilean crop who, while they may never challenge for a World Cup, should be able to compete for South American honours in the future if they can continue their development at the senior level.

Chile's Under-20 side were the outstanding group of the opening round in January's South American Championship, before fading in the second round. At the age-level World Cup this summer, they once more looked strong but were outgunned 4-3 by a powerful Ghana side in the quarterfinal stage. The experience, though, will have been invaluable for the group's more talented players.

The team's big names, as per usual, lie in attacking areas. No. 10 Bryan Rabello is a truly special talent and is finally beginning to make significant strides with the Sevilla first-team.

Much attention has been paid to Porto's Juan Fernando Quintero as the future of the attacking midfield position in South America following his sensational performances for Colombia this year, but Rabello deserves attention also. An excellent dribbler, the diminutive right-footer has an eye for a killer pass and has shown great calm when faced with decisive moments for youth national teams over the past year.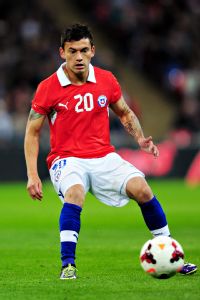 Shaun Botterill/Getty ImagesBasel midfielder Charles Aranguiz should be a staple for years to come for Chile.
When also considering strikers Angelo Henriquez and Nico Castillo, it's fair to say that Chile will not be short of attacking options in the coming years -- with Eduardo Vargas and Alexis Sanchez both still relatively youthful at 23 and 24 years old, respectively.

Manchester United-owned Henriquez, 19, is the more typical No. 9 and has been performing well this season on-loan at Spanish side Zaragoza. Quick, intelligent in his positioning and an instinctive finisher, Henriquez has already scored twice in three international appearances and would appear to be the country's natural long-term centre-forward option.

Castillo, though, offers something a bit different. He is a nightmare to defend against for a few reasons, in that he is capable of moments of inspiration but also works incredibly hard for his team and is not afraid to use his physical strength. He may lack the refinement of Rabello, or even the clinical finishing of Henriquez, but he has shown at Under-20 level and with Universidad Catolica that he can be a real handful. What is great for Sampaoli and whoever his eventual successor may be, is that there is real variety to the talent coming through.

In midfield, also, it is very much the same story. Rabello or Nicolas Maturana are skilled playmakers, but at the base of the midfield 20-year-old Sebastian Martinez already has plentiful club level experience to his name. Able to play centre-back, Martinez boasts excellent defensive qualities but is also a good distributor of the ball and was a key player for his country at youth level. Post-Brazil, he will almost certainly be a regular alternative to Vidal, Diaz or Medel at senior level. Santiago Wanderers anchor Andres Robles, 19, is another alternative.

In wide positions, meanwhile, Chelsea-owned 18-year-old Cristian Cuevas could be an excellent left midfielder or wing-back if he can add refinement to his game. Sporting-owned winger Diego Rubio, too, is talented, but needs to start showing greater signs of progression.

Not to be left out, Chile also boasts some of South America's better defensive talents. Universidad de Chile's Igor Lichnovsky, 19. The right-sided centre-back lacks pace, but is highly skilled in his defensive work and has been regarded as one of the country's leading prospects since breaking through aged 17. A summer move to Getafe fell through, but he surely move to Europe in one of the coming windows.

Universidad Catolica's rugged 21-year-old Enzo Andia made his international bow in 2011 and, while progress has been slow, remains a solid defender with plenty of time to smooth over some rough edges. Lichnovsky's La U teammate Valber Huerta, too, attracted great attention at this year's South American Youth Championship for his reassured presence at the back. Whether the trio can make the step up remains to be seen, but the raw materials at work are strong.

It is great to see a country of Chile's size producing talent of such variety and quality. If just a few of the younger players can find their path at club level and integrate into Sampaoli's system, then the country's prospects at the Copa Americas in 2015 and 2016 would appear strong. Vidal, Sanchez, Vargas and Isla still have many years ahead of them, so it is a matter of simply filling the gaps and adding quality -- which should be achievable given the talent coming through.

Chile will have shocked many casual fans in England with the quality of their play at Wembley and the talent on show from even some lesser known faces among the side. However, it would seem like this fine era of Chilean football could continue for some time yet. Certainly, next time they return to English shores, there should be a far greater understanding of just what this side is about -- a message which could be delivered emphatically with a strong showing next summer.

Sampaoli's side have lost just once in 13 games this calendar year, despite fixtures with Spain, Brazil, Colombia and now England. They are an incredible group and one that deserves all the plaudits that will come their way this week after their outing on British soil.

For further discussion on any of the players featured in The Scout's Notebook, Christopher can be found on Twitter –@chris_elastico. More of his work profiling rising talents can also be found at TheElastico.com.