Scouting America: Is Louis Gil America's new No.10?
It's rare to see a top European soccer club offer an American teenager a professional contract. And it's even more unthinkable that the said teen would reject such overtures. But that's exactly what happened with Real Salt Lake's wonderkid Luis Gil.

Gil made shockwaves in 2010 when he rejected a contract with Arsenal, one of the few top European sides known to play young players, to join Major League Soccer. For the then 16-year-old, the thinking was simple. He wanted a reasonable chance to see first-team minutes. However, he didn't want to share the fate of previously overhyped teen prodigies like Freddy Adu. Once well-established Jason Kreis presented Gil with a blueprint of his development, it was clear that the midfielder's future lied with Real Salt Lake and the midwestern club traded for his rights.

Over the next three years, Kreis cautiously utilized Gil, not thrusting him into a starter's role until this season. His patience with the young playmaker has been rewarded. RSL went through a major rebuild prior to this year but the team didn't miss a beat thanks largely to the impressive form of Gil, who has scored five goals and added three assists this season. An impressive playoff run by RSL could lead to a January camp call up for Gil, who has been involved with the U.S. national team's youth teams.

ESPN FC spoke with a Champions League scout from one of Europe's top-three leagues (Spain, England and Germany) to get an assessment of Gil's potential. The scout was willing to give an honest review of Gil as long as his identity remained anonymous.

Here's his scouting report:

Strengths:

"Gil possesses outstanding awareness and technical ability. He's one of those players that seem to see the game develop before anybody else does. Confident and comfortable in possession, he never seems as if he's under pressure and isn't fazed by any occasion.

"His range of passing is excellent and he often seems to effortlessly link Salt Lake's back four with their attacking players. Much of his comfort on the ball stems from his first touch, which rarely lets him down. His awareness of his teammates, the opposition, and the space around him make him dangerous on the ball and very difficult to dispossess.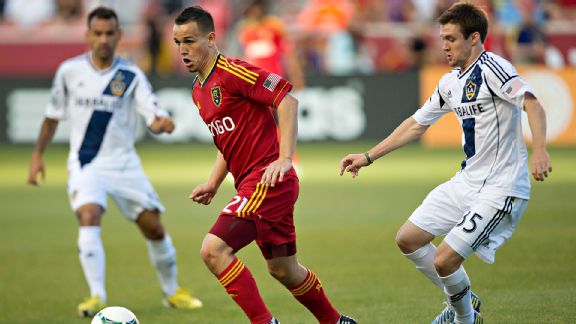 Russ Isabella/USA TODAY SportsLuis Gil's vision of the field makes him a very promising prospect for the U.S. national team.
"He's the sort of player that opposing midfielders hate to defend because they are always chasing. His little movements off the ball are sometimes just as impressive as what he does on it. Those little one and two yard movements create the time and space he needs to get on the ball and punish the opposition."

Weaknesses:

"Defensively Gil continues to improve yearly in MLS. He sometimes gets caught ball-watching, which can lead to him being played out of position and chasing rather than defending, but that is getting better.

"At just 19 years old he's already been in the league four seasons and his improvement has been quite noticeable. His calm and composed nature means he's not as aggressive as he could be but he that is also improving yearly. Physically he isn't the quickest player on the pitch, but his intelligence on and off the ball helps make up for it.

"On the ball, he needs to improve his finishing and ability in the final third. He's scored some excellent goals since bursting onto the scene as a youngster, but he'll become even more dangerous in those good positions if he becomes a consistent shooting and passing threat."

Why He'll Make It:

"Gil's technical ability and his high intelligence levels make him a special player and one to watch. He's rarely ever rushed in possession and knows how to create space for himself and others regardless of the opposition. Teams are always looking for players that are able to connect defense and attack, and Gil can be that guy for years to come."

Why He Won't Make It:

"The modern game is so demanding for midfielders, and Gil will need to improve his defending if he is to make it at the top level. Each year he's been in the league he's become more and more aggressive off the ball, but he'll need to combine that with consistent quality defending. Jose Mourinho has shown this season that even a player like Juan Mata doesn't have immunity when it comes to defensive duties."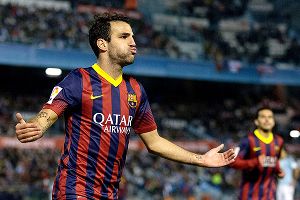 Gonzalo Arroyo Moreno/Getty Images
Similar Player: Cesc Fabregas

"Fabregas has never been the quickest player in the world, but his intelligence and ability to pick out a pass have helped him excel rapidly in his career. Since making his debut as a teenager at Arsenal, Fabregas has improved his ability in front of goal greatly and even deputizes as a false striker for both Barcelona and Spain at times.

"With his excellent technical ability and awareness all over the pitch, Gil demonstrates certain qualities similar to Fabregas. Both players make passing and movement off the ball look so easy and are comfortable playing through the middle or in wider areas as inverted wingers."

Rate this out of 5 for each:

Dribbling: 4
Finishing: 3
First Touch: 4
Passing and Vision: 4
Speed: 3
Aerial Ability: 3
Strength: 3
Injury: 3 (where 1 means he gets injured a lot and 5 means he's always fit)
Maturity: 3
Defense (Marking, Tackling): 3
Score: 33 out of 50

Potential Score: 38

Ratings Meter:
0-10: Not even NASL level
10-15: Average NASL player
15-20: MLS Role Player
20-25: MLS Starter
25-30: MLS All-Star
30-35: Starter on mid-, low-table EPL side or role player on top team.
35-40: A solid starter on a top EPL club
40-45: A legit star player
45-50: Messi, Ronaldo

Current transfer fee: $3,000,000
Future transfer fee: $6-10m

Overview: The United States national team has been to desperate to find a central midfielder who can be an effective at pulling the strings and creating scoring chances since Claudio Reyna's retirement. While it is unlikely that Gil will be involved in the United States' World Cup roster, it's clear that he is an elite prospect for the Stars and Stripes in the future. If his keeps on improving and tapping into his potential, Arsenal won't be the last big European club to take interest.