Scouting America: How good can Diego Fagundez be?
In 2013, Major League Soccer and its fans witnessed the rise of Diego Fagundez.

In his first full season as a professional with the New England Revolution, the 18-year-old exploded on the scene, scoring 13 goals, good for fifth in the league, and adding seven assists. It's not a coincidence that the Revs are returning to the playoffs for the first time since 2009; Fagundez's ability to score and make others better has turned the team into a formidable side.

But just how good is Fagundez? ESPN FC spoke with a scout employed with a Champions League club in a top-three league in Europe (England, Spain and Germany). The scout was willing to give his honest assessment of Fagundez as long as his identity wouldn't be revealed.

Here is the scout's evaluation:

Strengths

Fagundez isn't a typical MLS striker. Despite his age, he has a certain class to his game that is fantastic. He possesses great acceleration and change of pace, which for a striker can be deadly when used in the right areas. He's another one of those strikers who have killer instinct, and he oozes confidence for his age. He's creative and aware of his surroundings on and off the ball.

Not only is he able to score goals in the box, but he's also comfortable dropping off into the area between the back four and the midfield to collect the ball in order to create opportunities for himself and his teammates. If you watch him in these areas, he's always looking to turn with his first touch and face the goal, which gives the defenders around him immediate problems.

He's creative, intelligent, aware, technically sound and full of energy.

Weaknesses

Fagundez needs to improve his passing, especially in the final third. The youngster gets into so many good positions, both through the middle and down the flanks, but his final ball is sometimes either weighted or angled improperly. At times, it seems as if this is just a byproduct of his eagerness to go forward and get the ball into good areas.

He also needs to improve his game when he has his back to goal. That encompasses his ability to bring others into the play, holding defenders off and just keeping possession while his team joins him up the pitch. He's comfortable popping a yard or two off defenders and receiving the ball while he opens his hips, but he has to improve his game with a defender on his back and facing his own goal.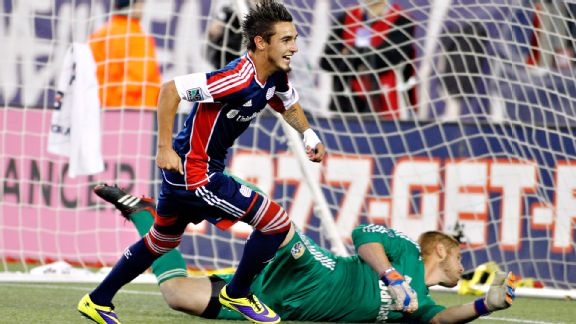 Stew Milne/USA TODAY SportsDiego Fagundez can beat defenses in many ways, through close range shots and long blasts from the midfield.
Why he'll make it

When you watch a player like Fagundez, you immediately notice him. He has great energy all over the pitch, but his desire to go forward and punish the opposition whenever he gets the ball is evident. He's a natural goal scorer and can do it by poaching a goal in the six-yard box or collecting the ball 30 yards from goal, beating his man in a one-on-one situation and shooting from outside of the box. The direct nature of his game, if perfected, will be desirable in the years to come.

Why he won't

As mentioned in his weaknesses, he has to improve his passing and his ability with his back to goal if he's going to make it at the top level. His passing just needs to become slightly tidier, especially in and around the box.

All top strikers and wingers who play in areas similar to Fagundez are super effective when they are facing their defenders but also when they are tightly marked and facing their own goals. He'll need to improve both his lower- and upper-body strength to hold off the world's best defenders.

Similar player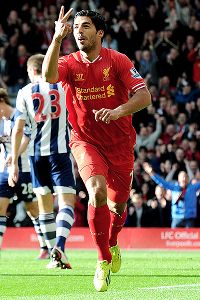 Andrew Powell/Getty ImagesDiego Fagundez has a lot of similarities to Liverpool's Luis Suarez. Let's hope he's a bit more composed on the field though.
It might just be a coincidence that I'm going with a fellow countryman of his, but Fagundez reminds of Luis Suarez.

They have similar physical builds, they are both creative, and they both have an incredibly confident and direct nature to their game. Suarez is constantly looking to score goals, no matter where he is on the pitch, and Fagundez seemingly shares that same passion in the final third. They are both creative, can score when the odds are heavily stacked against them and enjoy getting the ball to feet as much as in behind.

Rate this out of 5 for each

Dribbling: 4
Finishing: 4
First Touch: 3
Passing and Vision: 3
Speed: 4
Aerial Ability: 2
Strength: 3
Injury: 3 (where 1 means he gets injured a lot and 5 means he's always fit)
Maturity: 3
Defense (marking, tackling): 3
Score: 32 out of 50

Potential score: 38

Ratings Meter:
0-10: Not even NASL level
10-15: Average NASL player
15-20: MLS Role Player
20-25: MLS Starter
25-30: MLS All-Star
30-35: Starter on mid-, low-table EPL side or role player on top team.
35-40: A solid starter on a top EPL club
40-45: A legit star player
45-50: Messi, Ronaldo


Current transfer fee: $3 million
Future transfer fee: $7 million to $12 million

Overview:

That aforementioned confidence encourages Fagundez to try things and he is unafraid to set lofty targets. Shortly after the Boston Red Sox won the World Series on Wednesday night, the teen tweeted from his @DiegoFagundez14 account that he wants the Revs to follow suit, which was retweeted more than 150 times. He has high expectations even if it's a probably a long shot that New England will win the MLS Cup this year.

It's not a surprise that the United States men's national team is closely tracking his progress, though he has made two appearances for the Uruguay U20 team. Fagundez has said that he would be open to considering a U.S. call-up, but he is still waiting for his citizenship to be finalized before that happens.

National teams aren't alone in following the New England striker. European teams are also following Fagundez's games, and it is clear that his future lies in one of Europe's top leagues at some point. It's matter of when, not if, for the teenage sensation.