Brazil's Nathan lights up U17 World Cup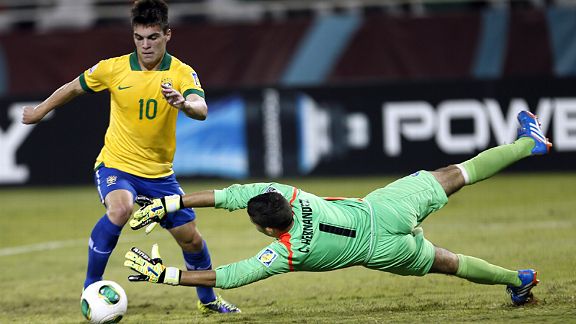 GettyImagesBrazil's Nathan goes past Honduras goal keeper Hernandez.
With 36 matches played, there are remarkably still eight unbeaten sides in the 2013 FIFA Under-17 World Cup, meaning that half the sides to have reached the second stage will have done so without a defeat to their name.

Only two sides have progressed with a 100 percent record from their three group stage matches, however, and Brazil and Japan have both been mightily impressive, in very different ways.

Japan have shown excellent technical abilities and, while they have not been free-scoring, have plentiful talent in attack.

Wide forward Ryoma Watanabe has been the pick of the bunch thus far, picking up three goals and demonstrating strong dribbling abilities, vision and set-piece taking. Not particularly quick, Watanabe relies on his technique to shine and will be closely watched in the knockout stages.

Brazil, meanwhile, have been simply sensational thus far -- albeit against opponents that are not expected to challenge in the latter stages. Fifteen goals scored in just three games shows the ease with which they have found the net thus far -- with the attacking quartet of Nathan, Boschilia, Caio Rangel and Mosquito devastatingly good at times.

As an aside, it is disappointing that we will not see more of flying full-back Abner, who will now be on the sidelines for some time after requiring surgery on an injured knee.

It is a little difficult to pick out just one of Brazil's side to focus on, with so many having impressed thus far. However, previously unheralded No.10 Nathan has been the real standout star so far.

Had all gone to plan for Brazil and Vasco's Indio not become embroiled in a contractual dispute with his club, Nathan may not have even had a starting berth for the competition. Instead, he has been installed in a central attacking midfield role and has contributed four goals and a number of assists in the three games thus far. With Boschilia of Sao Paulo another creative force to one side and Flamengo's Caio Rangel a more direct runner to the other, Brazil have plentiful options.

Indeed, it says much of the attacking quality of Brazil's 1996 generation that Santos' Gabriel Barbosa and Fluminense's Kenedy sit on the bench, despite having made senior breakthroughs at club level. Kenedy's club teammate Robert, meanwhile, is rated as one of the best No.10 prospects in recent years yet does not even make the squad.

Given the strength of competition, the selection of Nathan from a relatively unfashionable Atletico Paranaense side was initially questioned. However, he has more than justified his inclusion. His link up play with club colleague Mosquito was a feature of the opening encounter with Slovakia, while in later games it has been the connection between the two would-be playmakers, Nathan and Boschilia that has really impressed.

Well over half of Brazil's goals at the tournament have seen some form of involvement from Atletico's young starlet. Right from the opening game against Slovakia, when in the first half alone he provided an assist, won a penalty and crashed a right-footed shot into the roof of the net, he has been sensational.

It was no one-off either, with the goals and assists continuing, including a wonderful 40-yard pass into the path of Caio for the goal that rounded off Brazil's sensational group stage against Honduras.

There are many talented players at the competition, but what separates the likes of Nathan from the majority is the mental side of their game. Many players can play an accurate 40-yard pass, but Nathan has shown great judgement of when to pass, when to dribble and, indeed, when to shoot.

His goals, too, have demonstrated great intelligence in terms of timing of runs and positioning within the area, while his brace against UAE in Brazil's second match was a masterclass of composure in front of goal -- feinting a shot to fool the 'keeper for his first, before deftly chipping home his second over the unfortunate Emirati gloveman.

He has simply been a revelation, even to most in Brazil. Problems regarding the capture of Mosquito from Vasco da Gama have prevented Atletico Paranaense from entering many youth tournaments and, while he scored the decisive goal in his club's Under-17 Copa do Brasil success last year, he was largely playing second fiddle to players a year older than himself.

Coach Alexandre Gallo took a big risk promoting the Blumenau youngster into a key position in the side, given his lack of previous international experience (Nathan made his debut for Brazil in the tournament opener). He has, though, been duly rewarded and his critics silenced. The junior Selecao will face tougher challenges ahead, but with Nathan in his current rich vein of form they will be confident of being among the strongest contenders for the title.

Last 16 Ties:

Honduras-Uzbekistan
Japan-Sweden
Uruguay-Slovakia
Nigeria-Iran
Argentina-Tunisia
Morocco-Ivory Coast
Brazil-Russia
Italy-Mexico

For further discussion on any of the players featured in The Scout's Notebook, Christopher can be found on Twitter –@chris_elastico. More of his work profiling rising talents can also be found at TheElastico.com.