Serbia's youngest debutant hits international scene
---
Name: Andrija Zivkovic Age: 17 Club: Partizan Belgrade
Position: Winger Nationality: Serbia


---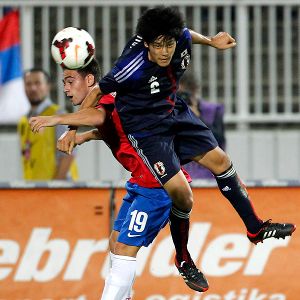 Srdjan Stevanovic/Getty ImagesAndrija Zivkovic, left, became Serbia's youngest international player Friday in a match against Japan.
Partizan may have lost Lazar Markovic to Benfica this summer, but the flow of talent out the club does not appear to be stopping. In recent years, the club have released Zoran Tosic, Matija Nastisic, Stevan Jovetic and Adem Ljajic into the wider world of European football.

While Markovic is yet to prove himself at those levels, the 19-year-old has the ability to be the best yet of what is a talented bunch. However, within just months of his departure, the club may well have found the next another replacement from within their youth ranks -- Andrija Zivkovic.

Only 17 years old plus 80 days, the left-footed wide forward made his debut for Serbia against Japan on Friday night, becoming the youngest player in his national team's history. Following four goals in his opening six appearances in the Serbian Super Liga, the young speedster was fast-tracked into the national team setup and, on the hour mark, replaced Tosic to make his international debut.

His arrival has been long anticipated, with the 1996 generation at Partizan one of great promise. Central playmaker Daniel Pantic made his first-team bow at the end of last season and is still just 16, while fellow creative midfielder Sasa Lukic is already in regular action for feeder club Teleoptik alongside centre-back Miladin Stevanovic. Wide forward Milan Radonjic, meanwhile, is another talked about as a potential future star. Zivkovic, though, is the diamond of the group.

What is impressive about the 17-year-old is his versatility, with the teen able to play all across the attacking midfield three in a 4-2-3-1, or as a second striker. For much of his career with Serbia's youth sides, he has started from the right flank, looking to use his pace to escape down the line before cutting inside onto his delicate left foot to shoot or find an assist. If needed, though, he is more than capable of using his right foot to cross or get an effort on goal.

Given their similarity in ages, he will find himself frequently compared to the aforementioned Markovic in the future. While Markovic is predominantly right-footed and often operates from the left flank, Zivkovic is the inverse and equally potent. He has great close control when running at pace and, with the ability to beat his man on either side, opens up a number of attacking angles for his side.

Sadly for Partizan and their wonderful academy system, they are once again unlikely to see the best of the youngster. He will turn 18 next summer and, should he continue impressing, it will be an impressive achievement if they can retain his services into next season.

Add in 21-year-old winger Milos Jojic, who scored as a late substitute against Japan, and central playmaker Nikola Ninkovic, an 18-year-old who made a name for himself last campaign, and it would seem that Partizan will have to face up to another summer of their best prospects being plundered. Amazingly, though, they are continually able to rejuvenate from within their own youth system—for the most part.

Zivkovic still has a long way to go to prove himself at senior level, but his first few months have been nothing short of electric. If he can even maintain something close to his current performance levels until January, it will be interesting to see if any outside interest emerges -- although he will not be permitted to leave until June.

Serbia have not been enjoying the best of times at international level in recent years, but as more young talents seem to continually emerge at Stadion Partizan, they should be able to bounce back in fine style at coming tournaments.

For further discussion on any of the players featured in The Scout's Notebook, Christopher can be found on Twitter @chris_elastico. More of his work profiling rising talents can also be found at TheElastico.com.